What the Pandemic Has Taught Us About Teaching and Learning
This pandemic year has been so challenging for parents and teachers and children alike! But from my vantage point, the pandemic has taught us about teaching and learning in a lot of new ways.
Lately, I've been thinking a lot about what we've learned about educating children this year. And as homeschoolers, we might even view our work in the world through a new lens.
I think the whole world of education is at a real turning point. And change has been needed for a long, long time.
Perhaps the most important lesson the pandemic has taught us is to put children's needs ahead of all else.
Because when children don't have their developmental, psychological and emotional needs met, children can't learn. Truth!
When things aren't working in our homeschools, our children let us know loud and clear!
As homeschoolers, we know this to be true! We know that education is about way more than the curriculum, academic benchmarks, standardized tests, and child care.
Children's needs must be met in order for them to learn.
Knowing when our children need encouragement, a break to move and stretch, a nourishing snack, to review or to put something aside, to go deeper, to practice, and when they just need to play is what real education is all about.
I've seen evidence that educators and administrators in brick-and-mortar schools are beginning to see this, too.
Educational considerations must start with the needs of the children above all else.
Lessons the
Pandemic Has Taught Us About Teaching and Learning
Children learn best when they are loved, engaged, and focused

Children learn best when they can move their bodies and take breaks

Children need to feel safe and know what to expect
And this sounds a lot like holistic, hands-on homeschooling to me!!!
The goal of education is to awaken a child's curiosity and passion for learning about the world and themselves.
So today, I want to empower you as homeschooling parents to trust that you have everything you need to meet the needs of your children. Embrace the idea that you are true educators.
You matter and the work you've chosen to do in this world matters. As a homeschooler, you may even have an advantage on the brick-and-mortar educational setting!
Hooray for the work you are doing in the world, dear homeschooling parent!
I want to live in a world where homeschooling moms & dads feel confident and proud about homeschooling! A world where the work of homeschooling parents is honored, respected and appreciated.
It is truly my mission to support parents as educators, to help you tune in to your children and create the most favorable learning conditions possible.
3 Tips to Tune In to Teaching and Learning
Create a daily rhythm so the children know what to expect and feel nurtured & safe.

Customize the curriculum & craft your lessons.

Set up of an environment of love & warmth, creative & artistic experiences, gratitude, joy, and humor.
And now that we've been through this pandemic year, I hope you feel more empowered as a homeschooler to figure this all out for your family!
Below you'll find Inspiration Cards you can print to help you remember the value you're contributing to the world!
I really, truly honor homeschoolers for being brave and taking a stand for the children.

.
Mentions
After the pandemic, a revolution in education and work awaits, The New York Times
What lessons from the coronavirus pandemic will shape the future of education?, World Economic Forum
5 Lessons the Pandemic Has Taught Us About Student Engagement, Students at the Center Hub
More Resources
Rudolf Steiner, the founder of Waldorf Education, encouraged us to look at the child or children before us and craft the lessons that they need. If you need support crafting your own hands-on, holistic homeschool, come join the Inspired at Home community.
About the Art of Homeschooling Podcast
The Art of Homeschooling Podcast is for parents who are ready to thrive in homeschooling. In each episode, we share stories and strategies so you can drop the overwhelm and get in touch with inspiration. You CAN create a homeschool life you love.
I'm your host, Jean Miller, homeschooling mother of three now-grown children. And here at the Art of Homeschooling, we keep it sweet and simple so you can focus on cultivating creativity and connection at home.
Rate & Review the Art of Homeschooling Podcast
If this episode inspired you, I'd LOVE it if you could rate and review the Art of Homeschooling Podcast on your favorite podcast player! Reviews can be left on Apple Podcasts (iTunes), Podcast Addict, or Stitcher.
Or simply pop on over to lovethepodcast.com/artofhomeschooling and choose where you want to leave your review.
And if you want to show your appreciation for the Art of Homeschooling Podcast, you can buy me a coffee!
Never Miss an Episode!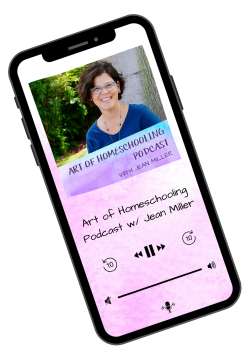 Subscribe & Listen
Save or share this episode on Pinterest with the image below.