Create a Simple Morning Routine for a Strong Start to Your Homeschooling Day
If you feel like you're giving and giving all day long as a homeschooling mom, with very little time for yourself, then now is the time to create a morning routine just for you.
No matter where you are on your homeschooling journey, starting your day with a routine to nourish and ground YOU will give you the stability and spunk to meet your homeschooling day with your best self. 
If you're approaching any transition, this is the place to start!
New homeschooling year? Returning from a trip? Resuming lessons after a holiday break? Or recovering after an illness? 
Breathe and begin again!
I promise you, this is going to make a really big difference!
Create a Simple Morning Routine for YOU!
Tune in, because this episode of the Art of Homeschooling podcast is all about creating a simple morning routine for a strong start to your day as a homeschooling mama and a simple transition into a successful homeschooling rhythm.
I'm sharing this episode right after New Year's with the hopes of inspiring  you to try take a few moments each morning just for YOU!
Here's How to Get Back Your Homeschool Rhythm After a Holiday in 3 Simple Steps
Start with mealtimes. Plan out your meals for the next week or two.

Begin to layer in your homeschooling lesson material by deciding on your main lesson block topic(s) or monthly theme. Choose your stories or reserve your books from the library.

Create your morning routine just for YOU.
This episode is all about Step Number #3, YOU!
With lots of tips, examples, and encouragement to get your homeschooling flowing again.
Getting back to DOABLE with homeschooling starts with a nourishing morning routine for YOU and unfolds from there with a strong daily rhythm for your children and family.
Dive Deeper
In Episode #12: Inner Quiet and Self-Reflection, I share the verse "Inner Quiet", written by Rudolf Steiner, which was the anchor for my own morning routine when my kiddos were small. 
Willpower Research: Are you a "Yes, Yes, YES!" parent in the morning, but  a "No, No, NO!" parent in the afternoon and evening? This phenomenon is directly related to willpower and decision fatigue. And the research shows that it is sooooo important for YOU, homeschooling mama, to rest, rejuvenate, and reset. Creating a simple morning routine to nourish YOU will make a really big difference.
Read more here: "How Willpower Works: How to Avoid Bad Decisions", by top-notch author of Atomic Habits, James Clear. 
Don't forget about my free rhythm guide, Homeschool Rhythm Starter Kit, to guide you as you learn how to embrace rhythm, design your day to work for you, and create a visual rhythm chart to provide consistency.
Get Community Support  to Create a Simple Morning Routine
If you're feeling called to really dig into working with rhythm and routine, we have a masterclass entitled Reset Your Rhythm inside the Inspired at Home Mentorship Community. The course consists of Six Lessons with videos and an Action Guide. Plus new this year: 3 Bonus Videos.
Come join an amazing community of holistic homeschoolers who support each other on the homeschooling journey!
Wishing you and your family all the best as you welcome in a new year!
About the Art of Homeschooling Podcast
The Art of Homeschooling Podcast is for parents who are ready to thrive in homeschooling. In each episode, we share stories and strategies so you can drop the overwhelm and get in touch with inspiration. You CAN create a homeschool life you love. 
I'm your host, Jean Miller, homeschooling mother of three now-grown children. And here at the Art of Homeschooling, we keep it sweet and simple so you can focus on cultivating creativity and connection at home.
Rate & Review the Art of Homeschooling Podcast
If this episode inspired you, I'd LOVE it if you could rate and review the Art of Homeschooling Podcast on your favorite podcast player! Reviews can be left on Apple Podcasts (iTunes), Podcast Addict, or Stitcher.
Or simply pop on over to lovethepodcast.com/artofhomeschooling and choose where you want to leave your review.
And if you want to show your appreciation for the Art of Homeschooling Podcast, you can buy me a coffee!
Never Miss an Episode!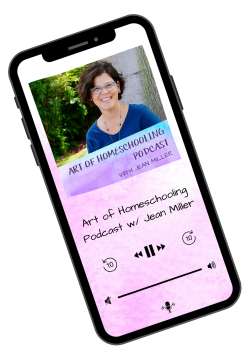 Subscribe & Listen