3 Ways to Build a Homeschooling Community
I'd love to share with you 3 ways to find and build a homeschooling community.
At the start of my homeschooling journey, I worried a lot about how I would find community for myself and my kiddos. Perhaps you've felt this same worry!
The truth is that homeschooling can be a bit a lonely. And we, as homeschooling parents, need to seek out and build the community that we want for ourselves and our children.
"A healthy social life is found only, when in the mirror of each soul the whole community finds its reflection, and when in the whole community the virtue of each one is living." ~ Rudolf Steiner
Rudolf Steiner, the founder of the Waldorf education movement, viewed the classroom as a social organism. He created the Waldorf approach as a means of engaging in meaningful group work and social life. 
As homeschooling parents, we can ask ourselves, "How do we put into place structures that feed our souls and allow us to be co-creative with others on a similar path?"
And in any social group – families, playgroups, co-ops, festival celebrations – we want to think in terms of nourishing the whole.
Building community is deep work. Rewarding, renewing, and sometimes challenging.
The benefits of a community of like-minded friends are important. In a group, children have the opportunity to practice group skills, navigate relationships outside of the family, and get a reprieve from sibling dynamics. 
As parents, a homeschooling community can meet our needs for adult interaction. And provide accountability to show up, be your best self, and do your part.
"Our growth as human beings happens in relationships."
2 Caveats When Building Community
I am writing and recording this episode of the Art of Homeschooling podcast during the COVID-19 global pandemic. Of course, our ability to gather with others is hindered right now.
Hopefully, you'll be inspired and find some ideas here you can implement right now…and some things to plan for the future when we can safely gather in groups again.
Second, our need for community varies a great deal from person to person. Some of us prefer smaller groups than larger. Some of us are more introverts than extroverts.
That's the wonderful thing about homeschooling! You decide what meets your needs and the needs of your family.
So let's dive into how homeschoolers can build community.
3 Ways to Build a Homeschooling Community
As homeschoolers, our first community really is our family. And through the holistic homeschooling experience, we can build strong family bonds and strive for wholeness within our families.
Beyond our family, the kinds of homeschooling groups we find or build really depends a lot on the ages and stages of our children.
First, consider what your family needs and wants. Then talk to other homeschooling parents about what they might be interested in.
Do you want a playgroup? A homeschooling grades group where some lessons take place? A seasonal festival group? A handwork group for moms with children, or more of a mom's night out group in the evenings? A singing group? A book club?
Here are 3 different ways you can build a homeschooling community.
#1 Start a Playgroup or Small Co-op
A small group of like-minded families is a wonderful place to start and can lead to rich friendships and activities to look forward to.
One or two families gathering once a week is great. Choose a focus like handwork, stories and projects, preparing for festivals, nature study, or hiking.
And in times like these with Covid-19 restrictions, gathering with a small bubble of families outdoors might be the best idea.
Questions to Help You Plan Your Gatherings
What will be the focus of our group?
How often will we meet, where, and for how long?
Who will lead the activities?
Helpful Tips When Planning to Build a Homeschooling Community
Based on my own experience:
End each gathering on a good note: Moms tend to linger and chat. It's best to avoid this! Leave promptly when the gathering is over to avoid potential meltdowns!
Keep the chit chat positive: Encourage each other to not

bring too much negative, complaining energy to the group. This can really affect the children! It's best to find other times to get together and support each other in this way.

Plan Age-Appropriate Crafts & Activities: Keep your plans simple and doable!
Plan for Conflict Resolution from the Get Go!
#2 Join or Start a Homeschooling Co-op
Larger more eclectic homeschooling groups can be really fun!
One homeschooling group I helped to start had about 30 families and met in the social hall of a big, old church in the city of Cleveland. We met once a week and parents taught different classes which the kids could choose from.
A larger co-op might offer you the opportunity to teach a main lesson block in a group. Or for your kids to take fun classes such as theater, bird watching, creative writing, sewing, or crafts. 
The children can eat lunch together and there may be free play or recess afterwards. Super fun! But also a bit overwhelming and exhausting as well. We had to be sure we had a day at home afterwards to recover!
A simpler version of a large co-op is to gather once in awhile with other homeschooling families for the kids to share what they're learning. Bring posters, read a report, share a painting, recite a poem.
We called our monthly gatherings Potluck Presentations. For several years, we rotated houses and really loved seeing each other and watching our children grow.
Art shows are another way to gather together and celebrate the work that your children are doing. Visual artwork as well as performing arts can be shared at the end of the year.
It's so meaningful for children to share their work and also to see the amazing things that other homeschooled children are working on.
The seasonal festivals make a wonderful focus for gathering together, too. Our group celebrated many Lantern Festivals, Solstice Spirals, and May Days together. 
#3 Join an online community like Inspired at Home!
During Covid-19, online communities and friends have become ever so important.
I know they may not seem ideal, and I'm not proposing that we spend hours every day online or on our phones. But I find that, especially for adults, having a group of homeschooling parents to share with and get support from can really make a huge difference in the quality of our lives.
We all need support and a few friends on our homeschooling journey. And I've been amazed at the bonds of friendship and support that have formed in my online communities.
If you want to join a wonderful community of like-minded mamas, I invite you to consider joining Inspired at Home. This is a monthly membership that you can join anytime and get holistic homeschooling support, training, and community when you need it most.
How do we put into place structures that feed our souls and allow us to be co-creative with others on a similar path?
Remember that homeschooling is a journey! 
I hope that I've given you some ideas to inspire you personally as you continue on this path of homeschooling and as you work on building community in your life.
More to Explore from the Art of Homeschooling
Read more here about Celebrating Festivals as a Family.
Candlemas is just one of the many seasonal festivals throughout the year. It can be a wonderful time to gather together as a family or community to share season stories, crafts, singing, games, and simple, special food. You'll find more here, Celebrating Candlemas.
The Taproot Teacher Training is the ultimate community-building experience for holistic homeschooling parents. Find out more here, Taproot Teacher Training for Waldorf-Inspired Homeschoolers.
About the Art of Homeschooling Podcast
The Art of Homeschooling Podcast is for parents who are ready to thrive in homeschooling. In each episode, we share stories and strategies so you can drop the overwhelm and get in touch with inspiration. You CAN create a homeschool life you love. 
I'm your host, Jean Miller, homeschooling mother of three now-grown children. And here at the Art of Homeschooling, we keep it sweet and simple so you can focus on cultivating creativity and connection at home.
Rate & Review the Art of Homeschooling Podcast
If this episode inspired you, I'd LOVE it if you could rate and review the Art of Homeschooling Podcast on your favorite podcast player! Reviews can be left on Apple Podcasts (iTunes), Podcast Addict, or Stitcher.
And if you want to show your appreciation for the Art of Homeschooling Podcast, you can buy me a coffee!
Never Miss an Episode!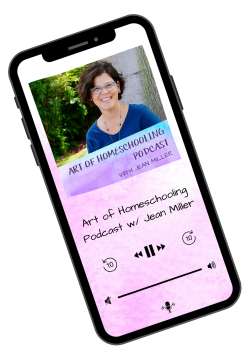 Subscribe & Listen
And save or share this episode on Pinterest with the image below.