Remember to Celebrate YOU!
I have a gift for you, homeschooling parent. A poem. Because I want you to remember to celebrate YOU.
This episode of the Art of Homeschooling podcast has been recorded for the week of Winter Solstice and Christmas. 
And I know, as a homeschooling mama of many years myself, that sometimes WE lose ourselves in the celebration shuffle.
It's totally 100% natural to sometimes feel left out, left behind, or lonely. Underappreciated and over-stretched. Maybe crabby and irritable…or just too darn busy! 
Listen in to this episode. It's a reminder to celebrate YOU. All that you are, and all that you do.
And know that I celebrate YOU, too!
I'm over here thinking about all you do for your children, your family, for your neighbors and communities, and for the good of the world.
So are you ready to find a comfortable, quiet place to sit for just a moment?
Lean in and listen as I share the beautiful, wholehearted words of Julia Fehrenbacher, author of On the Other Side of Fear. 
You'll find the full poem here on the free, printable Inspiration Cards for this episode.

And from my heart to yours, may you be at peace and know that your work is appreciated and honored in this world.
Remember to celebrate YOU!
Y

ou may also enjoy…
This lovely poem by Rumi.
7 Steps to Writing a Found Poem as a way of going deeper into self-appreciation and self-expression. And a fun way to bring poetry to your children, homeschool, and family.
These ideas about showing up as your true, authentic self in your homeschool.
About the Art of Homeschooling Podcast
The Art of Homeschooling Podcast is for parents who are ready to thrive in homeschooling. In each episode, we share stories and strategies so you can drop the overwhelm and get in touch with inspiration. You CAN create a homeschool life you love. 
I'm your host, Jean Miller, homeschooling mother of three now-grown children. And here at the Art of Homeschooling, we keep it sweet and simple so you can focus on cultivating creativity and connection at home.
Rate & Review the Art of Homeschooling Podcast
If you loved this poem, I'd LOVE it if you could rate and review the Art of Homeschooling Podcast on your favorite podcast player! Reviews can be left on Apple Podcasts (iTunes), Podcast Addict, or Stitcher.
Or simply pop on over to lovethepodcast.com/artofhomeschooling and choose where you want to leave your review.
And if you want to show your appreciation for the Art of Homeschooling Podcast, you can buy me a coffee!
Never Miss an Episode!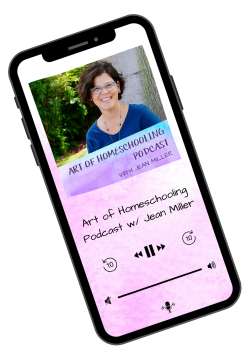 Subscribe & Listen
Save or share this episode on Pinterest with the image below.