The start of a new homeschooling year or season is the perfect time to pick out new poems for starting and ending your lessons.
Here are ten poems just for you to sprinkle throughout your homeschooling day. Plus a song as a bonus!
Because how we begin and end matters. I encourage you to find a poem to begin and one to end your lessons that you can stick with for a block, an entire season, or even for your whole homeschooling year. 
That way, children know what to expect. And everyone steps into the lesson time with fewer words or cajoling. 😉
Starting and Ending Your Lessons
There are three parts to this book-ended process of opening and closing lessons.
Gathering Song: Play a song on recorder or other instrument that is the "call to gather." Once everyone knows that this song means to come to the living room, or wherever you plan to begin, it gets easier and easier as time goes on. This simple song allows everyone to say "yes" to lessons without you having to use any words!

Opening Verse: Choose a poem to recite together once you've gathered. You will all quickly memorize this poem. Some families like to light a candle before reciting the verse.

Closing Verse: After you've

finished your lessons for the day, it's nice to mark the ending with a poem. It might be right before lunch, or sometime early afternoon.

C

hoose a simple poem that you can all memorize to signify that you're finished with the parent-directed learning for the day.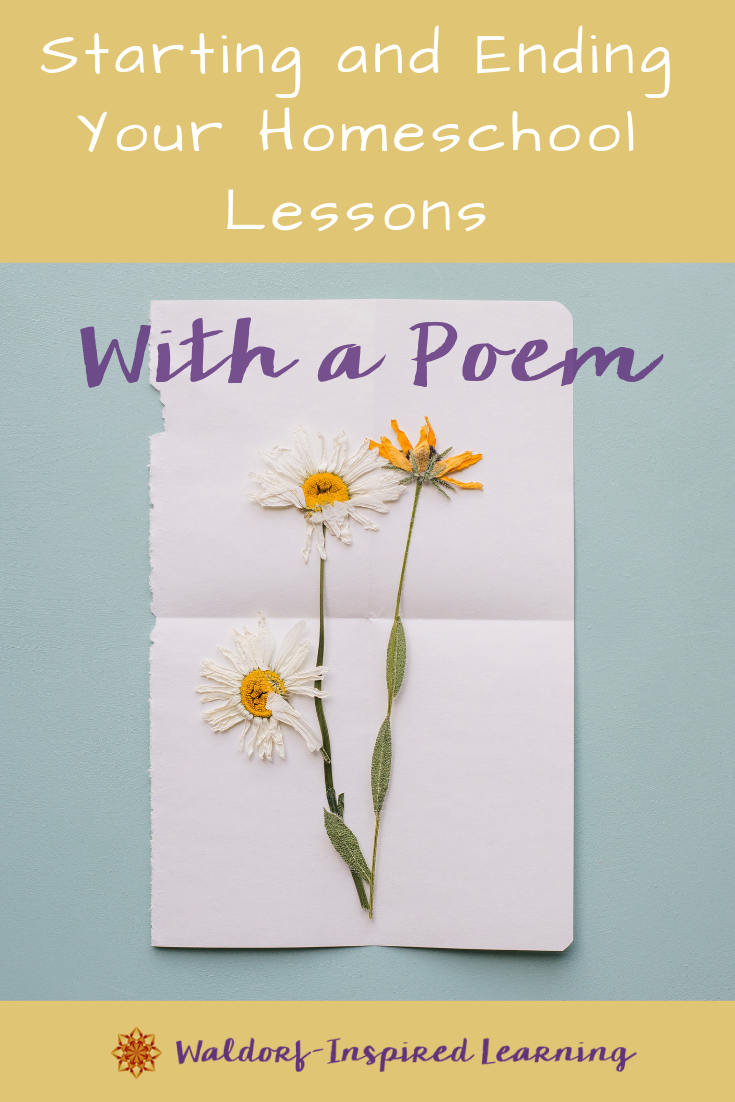 Gathering Song
For this step, I find it lovely to find a simple song that you can easily learn to play on recorder. Bonus if it's a song with lyrics that you can then sing together after everyone has shown up for learning time!
One of my favorites is this song, It Is Light. You can even sing this one in a round for a special experience. Listen below to hear how this sounds. But if you're not ready for that yet, keep it simple and just play the tune. 
It Is Light
Gathering tip: keep playing the song repeatedly until everyone shows up!
Poems for Starting Your Lessons
Warm Our Hearts
Warm our hearts, oh sun, and give
Light that we may daily live.
Growing as we ought to be,
True and good and strong and free.
The Angels
The angels watch over my sleeping and waking.
They guard me by night and guard me by day.
So to all of earth's creatures my warmth I'll be taking
In each deed I do and each word I say.
O Golden Sun
O golden sun so great and bright
Warms the world with all it's might
It makes the dark earth green and fair
Attends each thing with ceaseless care
Oh may each deed throughout the day
May everything we do and say
Be bright and strong and true
O golden sun light you.
Our Group (by David Darcy)
A large and lovely land are we
With stars above and flowing seas
With rocks and trees and birds and beasts,
With far and near and great and least
With houses strong to keep us warm
And safe from snow and rain and storm
With friends on every side around
Full of love we stand our ground.
Steiner's Verse for Grades 1-4
The Sun with loving light
Makes bright for me each day,
The soul with spirit power
Gives strength unto my limbs,
In sunlight shining clear
I revere, Oh God,
The strength of humankind,
Which Thou so graciously
Has planted in my soul,
That I with all my might,
May love to work and learn.
From Thee stream light and strength
To Thee rise love and thanks.
Steiner's Verse for Grades 5-8
I look into the world
In which the sun is shining,
In which the stars are sparkling,
In which the stones repose;
The living plants are growing,
The feeling beasts are living,
And human beings, ensouled,
Give dwelling to the spirit.
I look into the soul,
That lives within my being.
God's spirit lives and weaves
In sunlight and in soul-light,
In heights of world without,
In depths of soul within.
To Thee, O Spirit of God,
I wish to turn, to ask
That blessing and that strength
For learning and for work
In me may live and grow.
Poems for Ending Your Lessons
Our Work Is Done
Our work is done, our day is past, we'll go our separate ways.
And I will hold so tight and fast what I have learned today.
I've given with my heart and mind the effort my work needs.
And I will strive in me to find good thoughts, good words, good deeds.
Search for the Master of Greatest Might
Search for the Master of greatest might;
Follow the star of brightest light.
Work to achieve the highest goal;
And heed what your angel tells your soul.
Now That All My Work Has Ended
Now that all my work has ended
What I've learned I'll put to rest.
Always knowing, always seeing
That I have done my very best.
Wisdom and power and love will grow
And I will bless all people I know.
God's Love Flows Through Me
God's love flows through me,
My heart is a shining star,
My love goes out to all I know.
There you have it! Six poems for starting lessons and four for ending lessons.
I hope this gives you plenty of ideas of poems for starting and ending your lessons.
If you're looking for more ideas, I invite you to join Inspired at Home, a warm and welcoming homeschooling community where you get access to a library of training masterclasses, monthly group coaching calls, and lovely poems and songs for each month of the year.
All the best to you and your family as you embark on the next phase of your homeschooling journey.