Can You Homeschool Without a Curriculum?
Let's dig into the topic of homeschooling curriculum and a question that often comes up on the homeschooling journey: Can you homeschool without a curriculum?
This is Episode #88 of the Art of Homeschooling Podcast and I'm the host, Jean Miller, homeschooling veteran of 25+ years with three grown kiddos.
And guess what? I started off my homeschooling journey by buying a curriculum. And here's a story about how it went. Maybe you can relate?
The curriculum box arrives and I think that I'm all set, ready to start homeschooling. Then I dive in and realize right away that the purchased curriculum is not really as "open and go" as I thought.
We miss a day and then what? A lesson doesn't seem like it's worth the time it takes and so I switch it up. I wonder why the curriculum writers included a particular story. But most of all, I feel like there's no way we're going to finish it all!
So after a few weeks, we fall behind and I feel like there's something wrong with me and maybe I'm not cut out for this homeschooling gig after all. Ugh!
Then after a meltdown or two, I'm ready to regroup. So I start researching curriculum and guess what? I find a better(?), different approach to try and…I buy another curriculum. And so it goes!
If this is you, just know that you're not alone. This was how my journey began, and so many homeschoolers I talk to go through this as well. Just buying another curriculum, and then another. And sometimes even another!
So it happened that I began to wonder if I could homeschool without a curriculum. I wondered if I even needed a curriculum to homeschool or if I could create my own curriculum or customize the resources and ideas I already had.
The answer was YES! Yes, you can homeschool without purchasing a curriculum and you can create your own plan using the resources you already have.
Be sure to listen to the full episode by clicking above. And check out the highlights here in the show notes as well as the links for you below!
How I Define Curriculum
Let's take a step back to define what curriculum is.
Usually, you think of curriculum as a package or binder that you've purchased to teach a specific grade.
But there are several deeper levels to the idea of curriculum that are important to understand as you begin to explore crafting your own homeschool lessons:
Planned curriculum: This is the one you buy OR the one you write for yourself. The plan on paper for each month, week, or day.
Taught curriculum: This consists of the interactions between you and your child and the learning content. It's what emerges in the moment of teaching and learning.
Emergent curriculum: Here's a newer pedagogical term that I'm fascinated with! This is really a whole philosophy of teaching that encourages being responsive to a child's interests and needs and adjusting as you go. I think that's what many homeschoolers are aiming for. As we all know, life is fluid and dynamic and teachers rarely teach exactly what's planned ~ no matter what setting they're in.
Learned curriculum: The most important element of the curriculum because this is what matters the most! It's what the children truly absorb from what we teach and from the learning experiences. It's also the trickiest because it's often hard to measure what a child takes from the lessons we teach. We often don't even know what they retain from the lessons and activities. This is yet another reason that learning is quite mysterious and magical!
Can You Homeschool Without a Curriculum?
Now that we've clarified the many facets of curriculum, let's get back to the question "Can you homeschool without a curriculum?"
And I say resounding yes! You don't need to purchase a curriculum package. And in fact, sometimes it's easier to create your own plan than it is to follow someone else's.
I've talked to thousands of homeschoolers about curriculum, and have discovered that most use about 30% to 75% of the purchased curriculum material.
When I was homeschooling, resources for homeschoolers, especially Waldorf-inspired homeschoolers, were scarce! Whereas today, the pendulum has swung in the opposite direction and there are so many curricula and resources to choose from.
This is why I want to encourage you to not stop with the curriculum. Find your own path and make the teaching and learning fit your journey.
Be the leader of homeschool as you learn your own way of bringing the learning alive for your children. Your own way of planning, and engaging, and enjoying your homeschool life. Make the journey you own!
Give yourself permission to change things as you go along. And at some point, you can even begin to create your own curriculum and lesson plans, keeping in mind that the most important curriculum is the learned curriculum. So start with that in mind and work backwards from there.
Use the curriculum as guidance. Or as examples of how someone else taught a certain subject, block, or grade. Experienced homeschoolers can give you similar guidance. But you decide what will work for your children.
Remember that the children themselves are the curriculum. As homeschoolers, we are in the perfect position to look at our children and discern what they need each day and each lesson.
And before you even open that curriculum package, empower yourself to make the decisions that are best for you, your family, and your children.
Be the Leader of Your Homeschooling Journey
No matter what curriculum package or resources you own or choose to purchase, you are the leader in your homeschool. You will find your way and grow as the leader over time. So just start where you are. Just as Maya Angelou said in one of her most well-known quotes:
Your children are so fortunate to have you in their lives. And you are doing important work in the world, my friend. Please reach out if you want my support as you go.💜
More to Explore on the Art of Homeschooling Podcast
Check out Episode #54 all about how to customize your homeschool curriculum and invite more engagement if you're interested in tips for bringing more hands-on learning no matter what curriculum you're using.
If you want to embrace the fact that there's really no open and go curriculum, have a listen to Episode #51 so you can discover what to do instead.
And if you need tips on how to use the curriculum you purchased, check out Episode #28 where I remind you that the two most important skills we can learn as home educators are the skill of flexibility and the skill of observation.
Rate & Review the Podcast
If the Art of Homeschooling Podcast has inspired you, I'd LOVE it if you could rate and review the podcast on your favorite podcast player! Reviews can be left on Apple Podcasts (iTunes), Podcast Addict, or Stitcher.
Or simply pop on over to lovethepodcast.com/artofhomeschooling and choose where you want to leave your review.
And if you want to show your appreciation for the Art of Homeschooling Podcast, you can buy me a coffee!
Never Miss an Episode!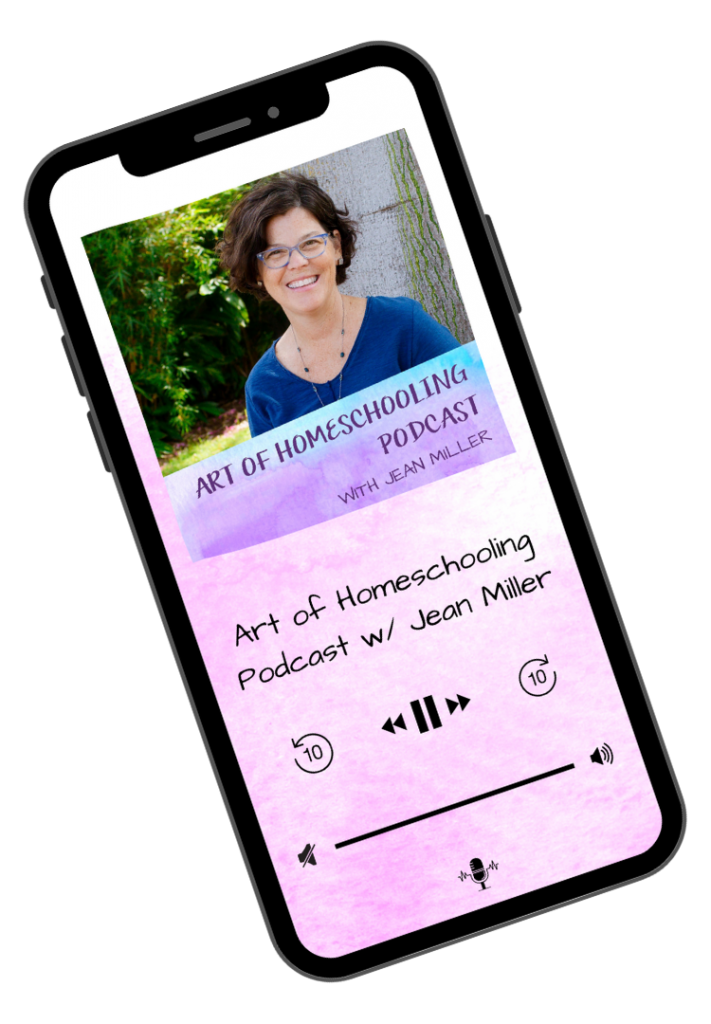 And save or share this encouragement on Pinterest with the image below.