The Story of How the Taproot Teacher Training Began
Join me on the podcast as I talk with my mentor, Barbara Dewey of Waldorf Without Walls, about the story of how the Taproot Teacher Training for homeschoolers began back on Barbara's farm in 2007.
This summer training has been life changing for so many people. And for the past 16 years, it's honestly one of our favorite weekends of the year!
Introducing my Guest, Barbara Dewey
Barbara, of Waldorf Without Walls, consults with homeschooling families throughout the world, writes publications, provides training workshops, and spends her spare time enjoying her unique solar home, and developing her farmland. Barbara, a Master Gardener, and her husband Quimby, a Forest Entomologist, lead workshops and field days on the environment and backyard food production. She is the mother of four, grandmother to six, and expected her first two great grandchildren this summer. Barbara holds an M.S. in Waldorf education from the Waldorf Institute of Sunbridge College in Spring Valley, NY. She's been teaching in various settings since 1960.
And most importantly, I would describe Barbara as the matriarch of the Waldorf homeschooling movement really!
We are so excited to talk about the Taproot Teacher Training together!
What is the Taproot Teacher Training?
Here's how I would describe Taproot:
The Taproot Teacher Training is a long weekend of teacher training workshops and inspiring fun!
It's a combination of a personal retreat, homeschool training, and summer camp all rolled into one.
Always a long weekend in early August, Thursday through Sunday.
Homeschooling parents get hands on experience as learners.
Beautiful, scenic setting in northeastern Ohio.
Small, intimate group of about 50 people including participants and a Taproot Team of 12 Taproot alums and veteran homeschoolers with diverse experiences and expertise.
So let's dive into my conversation with Barbara! Below you'll find highlights from our talk with time stamps to follow along. And links for exploring more. Enjoy!💜
The Story of How the Taproot Teacher Training Began
1:42 Jean introduces her guest and mentor, Barbara
2:43 Barbara is the matriarch of Waldorf homeschooling
3:38 Barbara describes her Taproot Teacher Training weekend
4:57 Jean shares what Taproot is to her
6:59 Jean asks Barbara what inspired her to start Taproot
10:36 Homeschoolers as facilitators rather than teachers
13:14 Favorite memories from past Taproot weekends
16:28 Jean asks Barbara what she loves the most about Taproot
17:59 Jean shares what Barbara is presenting at Taproot 2022
18:59 How Taproot workshops have evolved
21:39 Jean asks Barbara what she's most looking forward to at this summer's teacher training
24:13 Why Barbara recommends the Taproot Teacher Training
Taproot
We gather every August for the Taproot Teacher Training. We're so excited to welcome everyone back to the rolling green hills and gentle forest of northeastern Ohio. Join in for a long weekend retreat filled with new friends, laughter, homeschool teacher training, hands-on learning experiences, inspiration, and introspection. It's an experience that will change you!
More Lovely Links
Barbara has a selection of beautiful and practical ebooks for sale! A getting started guide, the philosophy and theory behind Waldorf homeschooling, how-to guides for painting, form drawing, handwork, geometry, math, and more. Check out Barbara's books at Waldorf Without Walls!
You'll also love Episode 2 of the Art of Homeschooling podcast, a super fun interview with Barbara where we talk all about keeping homeschooling simple and doable.
Rate & Review the Podcast
If the Art of Homeschooling Podcast has inspired you, I'd LOVE it if you could rate and review the podcast on your favorite podcast player! Reviews can be left on Apple Podcasts (iTunes), Podcast Addict, or Stitcher.
Or simply pop on over to lovethepodcast.com/artofhomeschooling and choose where you want to leave your review.
And if you want to show your appreciation for the Art of Homeschooling Podcast, you can buy me a coffee!
Never Miss an Episode!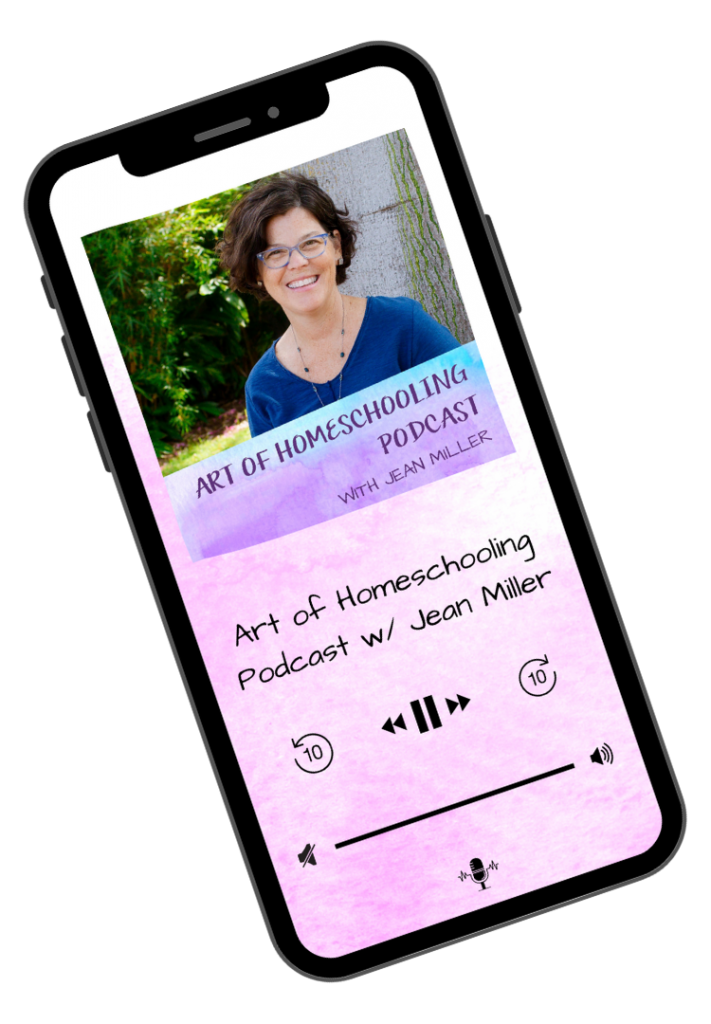 And save or share this encouragement on Pinterest with the image below.