When Our Children Resist
Let's be real! Our children are not always going to say yes to every homeschooling lesson we present them with! There will be times when our children resist.
Hey there, and welcome to Episode 77 of the Art of Homeschooling Podcast. So glad you're here!
In this episode, I share tips, strategies, and practical ideas for how to deal with our children's resistance.
The truth is, an important part of the homeschooling dynamic is that we can never make our children do what we want them to do. Ultimately, they're the ones who decide whether to step into the learning activities…or not.
As homeschooling parents, how do we handle their resistance without getting into a power struggle?
The more we try to coerce or control our children, the more they will resist.
What's a homeschooling parent to do?
Well, listen up, because if you hit that play button above, you'll hear all my super helpful strategies and suggestions for navigating this aspect of your homeschooling journey.
The First Step
If you're experiencing resistance from your homeschooled child, it's time to take a step back. Time to look at the broader view and acknowledge that it's perfectly normal for children to resist sometimes.
Acceptance is really the first step. It's important to stay out of a pattern of blaming yourself or your child. I call this the "game of blame and shame." This does not serve anyone.
When you're able to take a step back to see that broader view, you can begin to observe your child and discern his or her needs. One thing we know is that children resist when their needs aren't being meet. So this is the time to figure out what those needs are and shift gears.
Ask yourself, "What's going on for my child? And how might I respond?"
If you're coming up against resistance regularly and you're feeling overwhelmed, check out my links below. With some support, we can get you back on track in no time!
When Our Children Resist
When our children resist homeschooling, it's time to hone our observation and creative thinking skills. And carefully consider how to respond. Here are the three important steps:
Don't take the resistance personally.
Carefully consider what your child's needs might be.
Observe and problem solve why.
3

Scenarios Where Resistance Can Happen to Homeschoolers
Here are three scenarios discussed in this episode:
#1 ~ If your child is bored, you'll hear lots of ideas to switch up the lessons and the lesson rhythm, to keep that spark of learning alive in yourself and your child.
#2 ~ If the work is too difficult OR too easy, you'll find ideas for small tweaks to give your child more support or more independence.
#3 ~ If your child is distracted, it's time to really simplify your daily rhythm, maybe limit screen time, reduce interruptions, and model the behavior you want by turning off and setting aside your phone.
If you're getting resistance, I hope these ideas help you to feel supported. The keys to success are observing your child, knowing when to switch gears, and having the resources to choose a new direction.
Learning should light up your child and YOU! It is such a gift to be learning along side each other, together and connecting.💜
Resources for You
I work one-on-one with homeschooling parents just like you in my Mentor Sessions. If you're stuck, let's talk!
This episode is a bonus training from one the masterclasses inside my Inspired at Home Membership. Inside the membership, you'll find all the support you need to implement your homeschool curriculum so that it fits you, or support to plan your own homeschool lessons to meet your child right where he or she is. You'll also find sample lesson plans, how-to videos, verses and songs, and more. All in 25+ self-paced masterclasses. Plus monthly live group coaching calls with me and a community of super supportive homeschooling parents. So please don't feel as if you're alone on this homeschooling journey!
Rate & Review the Podcast
If the Art of Homeschooling Podcast has inspired you, I'd LOVE it if you could rate and review the podcast on your favorite podcast player! Reviews can be left on Apple Podcasts (iTunes), Podcast Addict, or Stitcher.
Or simply pop on over to lovethepodcast.com/artofhomeschooling and choose where you want to leave your review.
And if you want to show your appreciation for the Art of Homeschooling Podcast, you can buy me a coffee!
Never Miss an Episode!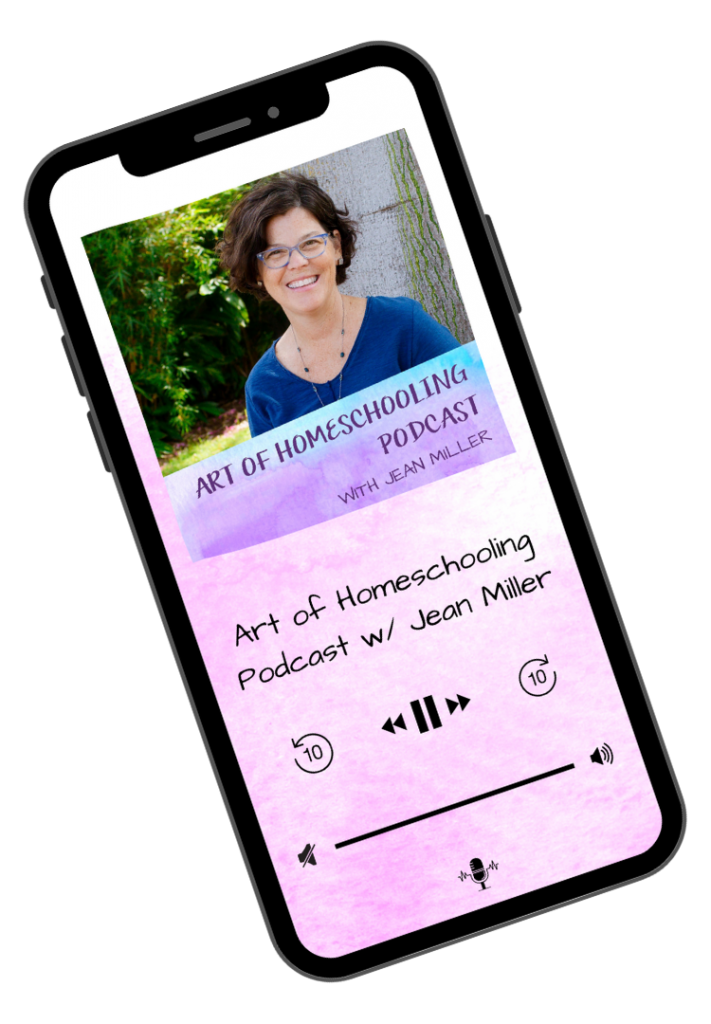 Save or share this encouragement on Pinterest with the image below.