Peace is Not the Absence of Chaos
In this episode of the Art of Homeschooling podcast, I want to share with you a quote. Not just any old quote, but a quote on a refrigerator magnet that I've had all through our years of homeschooling. The one that reminds me that peace is not the absence of chaos. 
"Peace. It does not mean to be in a place where there is no noise, trouble, or hard work. It means to be in the midst of those things and still be calm in your heart." ~unknown
This one, this quote about being calm in the midst of chaos, has gotten me through so many homeschooling days!
Peace is Not the Absence of Chaos
On overwhelming days when chaos seemed to reign, I would often walk into the kitchen to calm down. Our back door looks out into a small woods. It's a wonderful view because it's so soothing to take in our garden and old, tall pine trees.
And there in the kitchen, I would notice my little magnet with the quote on it stuck to the front of the refrigerator. And stop there to read it.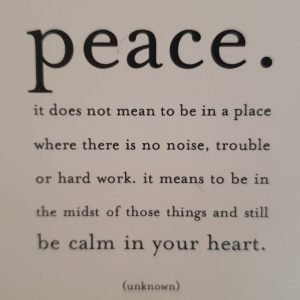 I remember thinking on those wild and wooly days,  "Oh, ok! I can do that."
It's funny because I realize there are many layers to this quote for me.
First of all is the belief that I should have been able to control the noise and trouble around me, to calm the chaos. The belief that if I only planned the perfect homeschooling day with just the right rhythm and activities, that there won't be any chaos or noise or trouble or hard work!
Ha, I wonder where that idea even comes from! Because believe me, there is challenge and chaos sometimes in family life. There are ups and downs, and unexpected things that crop up here and there.
The thing that I've learned though many years of homeschooling, and what I want to share with you, is that I can still be present and experience peace no matter what's going on around me.
That was a huge realization for me. Because for some reason I thought as a mother and as a teacher, if I was doing it right, there would be no children acting out, no unpleasant surprises, and no trouble.
We can't control it all!
For me, that realization started with acknowledging we can't control it all.
Our goal isn't to try to avoid the chaos, or control it.
Instead, our goal is to be present to all that comes our way. To hang in there and stay present. Rather than getting hung up in regrets about the past. Or fretting about what's to come.
The power of our presence will bring us peace.
So, no matter where you are on your homeschooling journey, I want you to know that life can look messy sometimes.
There are so many ways to get quiet and drop into the present moment.
I like to plan for little check-ins with myself throughout the day just to see if I'm remembering to stay out of regret or anticipation. Just staying right here, right now.
Keep this in mind: We're all just human beings having a human experience. But no matter what, peace is available to you. The power of your presence will bring you peace.
If you want to hear more…
Check out Episode 20: Conversations with Moms Who Love Inner Work. Here I talk with three different homeschooling mamas just like you about how they stay centered and present. And how the practice of inner work has helped them to cultivate this as a part of their homeschool journey. 
And here on Episode 19: Starting Where You Are Each Time, you'll find a free printable of this quote, the one from my refrigerator magnet, as well as other inspiring quotes to print, cut out, and keep handy for the days when you need a little reminder to breathe and stay present with your family and kiddos. 
Rate & Review the Podcast
If the Art of Homeschooling Podcast has inspired you, I'd LOVE it if you could rate and review the podcast on your favorite podcast player! Reviews can be left on Apple Podcasts (iTunes), Podcast Addict, or Stitcher.
Or simply pop on over to lovethepodcast.com/artofhomeschooling and choose where you want to leave your review.
And if you want to show your appreciation for the Art of Homeschooling Podcast, you can buy me a coffee!
Never Miss an Episode!


Save or share this encouragement on Pinterest with the image below.