February 3rd, 2021 is World Read Aloud Day!
Be sure to find time for reading aloud in Waldorf homeschooling today (and every day) 
Reading aloud and homeschooling go hand in hand.
I have loved reading aloud to my children. I was an English teacher in the classroom before having my three children. And when we decided to homeschool, I had two main goals around reading:
1. to allow my children to read when they were ready (no pressuring, belittling, or shaming)
2. For all of my children to enjoy reading as adults.
And I achieved both with all three kids!
(Just an aside: my kids' ages when they started reading independently were 10, 8, and 7. There really is a much wider range of normal than is generally believed.)
I want to invite you to take time to read aloud every day.
Delight in Reading Aloud in Waldorf Homeschooling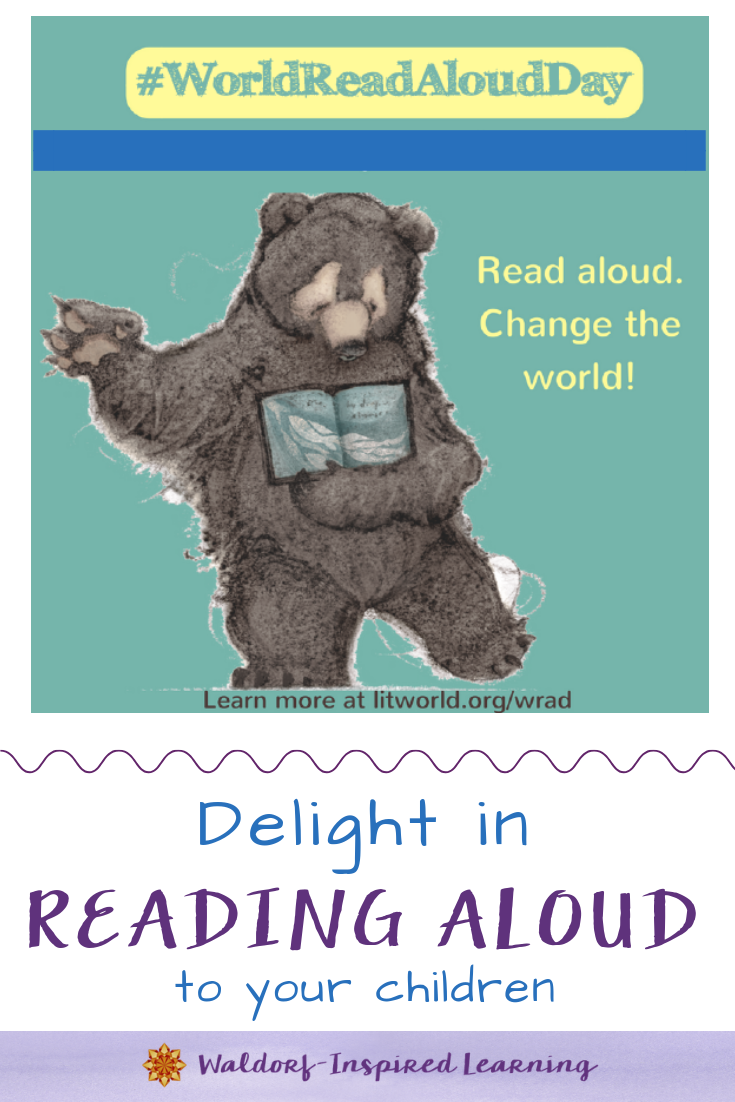 As my friend Alison calls it, plan for "couch time." The power of this is remarkable over the years. It's fun, relaxing, and connecting. And how lucky we are to be homeschoolers – with flexible schedules of our own making and access to a couch!
Make Today World Read Aloud Day at Your House
Read aloud during lesson time. Read aloud before rest time. Read aloud outside on a picnic blanket. Read aloud at bedtime.
Does reading aloud fit well with Waldorf homeschooling?
You bet!
And not only reading aloud to children for pleasure.
Waldorf homeschooling parents often ask me if they have to memorize all of the stories for lesson time.
The answer is "no." Steiner did say that it's great to create stories for your children. And that telling the stories rather than reading them has great power, so do that sometimes.
And he also talked about how to read aloud to children. Find out more here in Reading Stories to Children where I share Steiner's three steps to reading aloud. Simple but profound.
Reading aloud regularly really adds up over the years. And it's powerful stuff.
As the World Read Aloud Day motto says:
"Read Aloud. Change the World."