Festivals and Saint's Days offer us the opportunity to mark the turning of the seasons and to connect with our children. I hope this little story for Saint Patrick's Day makes you smile. It's a fun one to tell.
The tradition of telling tales and sharing stories has passed through generations time out of mind, from people the wide world over.
And stories nourish our children in so many ways! That's why they hold a place of importance in holistic homeschooling.
Many tales were brought to the United States by early settlers and the oral tradition continued for many years, especially in remote places like the hills and hollows of the southeastern Appalachian mountains.
What a treasure it is that some of these stories have been written down for us to discover. Almost like a pot of gold at the end of the rainbow!
The Peddler's Tale is an Irish story about the importance of following one's dreams and of being willing to risk the known for the unknown.
This story is just right for sharing with all ages and thinking a little green at the end of winter.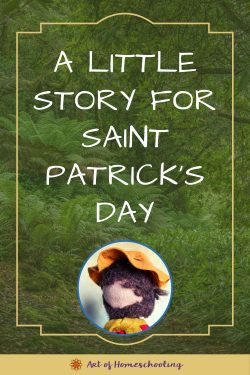 A Little Story for Saint Patrick's Day
A long, long time ago, far away on a lovely green island, there lived a peddler. And back in those days, if you wanted to buy anything, you would buy it from him. He carried his big pack to the fair or the market where people gathered, opened it up, and…
The full story, adapted from Homespun: Tales from America's Favorite Storytellers, is available here as a free printable. Just enter your name and email below. You'll also be joining my mailing list where I share inspiration and resources for holistic homeschooling every week.
Keep the storytelling tradition going!