We are smack in the middle of summertime here. I'm sitting out back on our deck under the apple tree as I write this. And I love to think of summer as a great time to rejuvenate. So that we can feel refreshed when we return to homeschooling in the fall. Here are 5 ways to recharge this summer.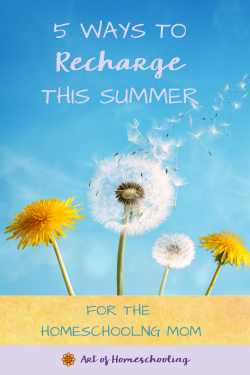 Want support for homeschool planning this summer? Join Jean for her Plan It Out online course + coaching program. Details here. 
Ways to Recharge This Summer
Read a Novel
I always had this unspoken rule that I couldn't read fiction during the school year because I was too busy homeschooling. No time for me. But I've always loved picking out a good novel for the summertime.
Go on a Date with your Husband
I know that the general advice is to go on a weekly date with your husband. But I have to admit, in our family, that did. not. happen.
But summertime dates are grand. Even if you go out for ice cream and a walk in the park, just the two of you, it makes such a difference. Some alone time, connecting time.
Go to a movie together, one that you wouldn't take your children to.

Go to a museum exhibit or a play or the orchestra – choose something that your children are not yet old enough to see. What fun to be adults out on the town!
Plan a Family Outing
Day-long outings scream summertime to me! These are like mini-vacations and can b the source of lifelong memories for children. So gather up your gear, make plans with friends to go together, and head out for a new adventure.
Pack a picnic and go for a bike ride along a rails to trails route.

Go to a living history museum or park that's an hour or two's drive away. Just for fun. 

Take everyone to the beach or a lake that's within a few hours drive. Or go on a creek hike. Playing in water is always fun and refreshing.
Get Creative
Learn one new artistic skill just for you. This summer for me, it's returning to watercolor painting.
Choose one of the lively arts that you'll include in lessons next year, such as painting or drawing, modeling, music, storytelling.

Or pick something different all together that's just for you. Like making a collage or learning to zentangle. Pick just one to explore for now.
Invest in Professional Development for YOU
I know how hard it is to invest in yourself. I struggled with this for years. If I wasn't bringing in money, how could I spend it?
But we spend money on curriculum. We spend money on books and supplies for our children. Why not spend it on learning how to be the best teacher and facilitator that we can be?
Come to Taproot to immerse yourself in all things Waldorf and you'll get more than just professional development.

The Taproot Teacher Training is designed specifically for Waldorf homeschoolers.

You get an outing for yourself, a weekend away from home, the experience of all of the Waldorf arts and methods of teaching, as well as the support of a community of homeschoolers to boost your morale. New friends who you can stay connected with all year. 

Taproot is magical and you are worth it. I encourage you to find a way to make it happen.
How are you finding ways to recharge this summer?