Here are 3 books that made me a better parent. I read each of them at different stages of parenting and they gave me a fresh perspective.
Parenting is such important work. Through our parenting, we really are changing the world one family at a time.
"There is no single effort more radical in its potential for saving the world than a transformation of the way we raise our children." –Marianne Williamson
I remember after my first child was born, the day it really hit me that I was a parent. It was when my husband went back to work and I was alone with this brand new baby. For hours.
And I distinctly remember thinking, "There must be some mistake. I'm not cut out for this. You've got the wrong person."
And then I thought,
"No one ever told me this would be so hard!!!"
Now looking back, with two of my three kids grown and the youngest in college, I am still flabbergasted (is that really a word?) that there is no training or education for the oh so important work of parenting.
Thank goodness there are some amazing books out there. (There are some not so great ones though, too.)
Today, I want to share with you 3 books that made me a better parent. Really and truly.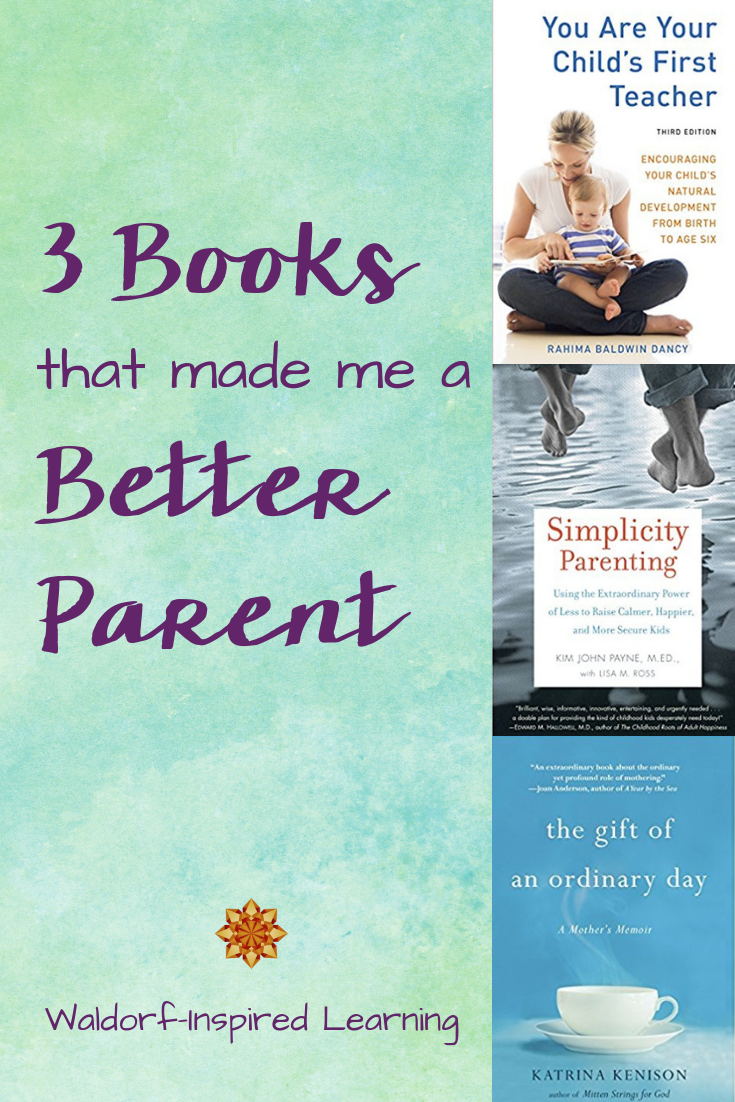 This post contains affiliate links for your convenience. You can read my full disclosure policy here.
3 Books That Made Me a Better Parent
These three books changed how I approached parenting. I was rather clueless as a new parent.
But I desperately wanted to give my children the space to be children. To play in the mud, climb trees, ride bikes around the neighborhood, and bake cookies. 
When I discovered the Waldorf approach, I remember wondering how to slow down all the pressure that I was putting on myself to "teach" my children.
When my boys were in kindergarten, life felt too slow, like I wasn't doing enough.
The days also felt like huge empty caves that I was supposed to fill with something!
Oh, the endless space of being at home with young children. It's both a blessing and a curse.
That's when I read You Are Your Child's First Teacher by Rahima Baldwin. 
This book helped me to see all of the important learning that was going on in our day-to-day lives even when it felt like not so much was happening.
I really discovered how to "be with children" from reading this book.
I actually called Rahima, the author, on the phone after reading her book. This was before cell phones, and she actually answered her house phone! We talked for over an hour.
I was desperate to find someone to help me with my very intense firstborn. I'd been through three local therapists who all gave me advice that did not sit well with me.
So, I called Rahima up to see if she had any suggestions for a therapist or parenting coach who might help me over the phone. 
And Rahima said, "I'll talk to you!"
Turns out we both had extremely choleric boys. Only hers was in his twenties by that point and she had so much helpful advice and reassurance in hindsight.
Rahima's book is full of so many practical ideas about topics such as nourishing your child's imagination and artistic ability, and developing rhythm. If you have children under the age of seven, read this book.
Next on my list is Simplicity Parenting: Using the Extraordinary Power of Less to Raise Calmer, Happier and More Secure Kids
by Kim John Payne.
When my boys were a little older and I had a young baby girl, I read Kim's book.
And WOW! I felt affirmed as a parent and held in this deep appreciation for the work I was doing. 
In his book, Kim walks parents through the four pillars of too much: your home environment, rhythm, schedules, and the influences of the adult world.
Kim gives very specific suggestions for how to simplify in each realm, while sharing stories of parents and families who have made changes and strengthened their family bonds.
This is the book that led me to develop this mantra: rather than perfection, focus on connection.
And allowed me to strive for improvement while developing a sense of humor about the realities of parenting at the same time.
After reading Simplicity Parenting, I became a certified Simplicity Parenting Family Coach in order to weave many of these principles into my work with homeschooling parents just like you. You can check out all that I offer here.
When my boys were in high school and my daughter still in elementary school, one summer I read The Gift of Ordinary Day: A Mother's Memoir
by Katrina Kenison.
This sweet memoir made me laugh and cry. And helped me begin to honor myself for the hours I had put in parenting and homeschooling.
The hours and days and years really do add up to make a difference. 
If you have younger children, you might also enjoy Katrina's other books: Mitten String for God or The Blessings of a Skinned Knee.
So there you have it, 3 books that made me a better parent.
I encourage you to find books that not only help you with frustrations you may have in your current phase of parenting.
But also books that help you to feel better about yourself and why you have chosen to parent and homeschool the way you have. 
Because parenting is both hard work and very important work.
You deserve to feel appreciated.
"If you want to change the world, go home and love your family."
– Mother Teresa