The Waldorf curriculum for any given year is divided into units of study called main lesson blocks. As we learned yesterday in What is a Main Lesson Block?, these block topics are the focus of learning for anywhere from three to six weeks. And now you may be wondering, why does main lesson block learning work? Is there any evidence that this approach is effective?
As a matter of fact, many schools beyond the Waldorf movement are now realizing the benefits of block learning. Rather than change subjects every 45 minutes, these schools now extend learning over a few hours time, and stay with one topic for a number of weeks. Integrating subjects such as history, art, music, and writing into the one topic. 
Sound familiar? This is how the Waldorf method works. And studies show that retention is greater with hands-on learning over longer periods of time than with the traditional textbook and test approach.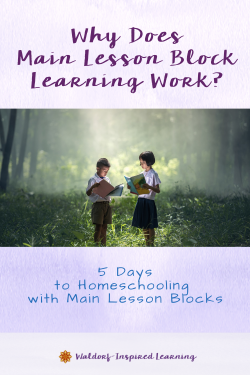 You might be familiar with unit studies for homeschooling. A unit study is sometimes called a thematic unit or an integrated study. They tend to be hands-on and focused on one particular topic. The child learns by reading real books (referred to as "living books" in the Charlotte Mason approach), and experiencing or discovering about a topic through activities rather than just reading a chapter from a textbook. I would argue that main lesson blocks are a specific type of unit study.
So let's compare unit studies and main lesson blocks. 
In main lesson blocks, there is a rhythm to the activities that is similar no matter what the topic is.
Here is an example. One of the traditional main lesson blocks in grade 3 is farming and gardening. In this block, children might start their day reciting verses and songs about farming and gardening. Then comes a story about the topic, perhaps from a culture of people who grow their own food. The story is followed by an artistic activity such as painting or drawing.
The next day, the child writes a summary of the story into a book they create to record the learning. After this, children might do some gardening and planting themselves outdoors. In this way, language arts, history, science, and art are all woven into one unit of study.
Many units studies, on the other hand, incorporate as many different activities as possible. A unit study is more of an eclectic mix of activities and tends to have more different activities woven in. The child might look up the topic in an encyclopedia, check a different reference book at the library, read a work of fiction on the topic, watch a documentary, memorize a poem on the subject, and then perhaps do some hands-on activity or craft.
To me, the main difference between a main lesson block and a unit study is summed up in this phrase that I like to use to describe main lesson block learning: "go deep not wide."
I would describe most unit studies as going wide, meaning the goal is to weave in as many different activities, subjects, and resources as possible.
In contrast, a main lesson block incorporates the activities in a particular rhythm as I described. This helps students learn in a very economical way that takes less time over all. And helps to deepen the learning.
Main lesson block learning works because it:
allows for extended time on a given subject

gives children an opportunity to use their thinking in a concentrated manner

uses the concept of rhythm to carry the learning energy forward

integrates many subjects into one topic that speaks to the interest and developmental stage of the child at different ages and grades
This post is part of a series, 5 Days to Homeschooling with Main Lesson Blocks. Tomorrow, I will delve into the rhythm and various components that make up a main lesson block, Day 3: The Essential Elements of a Main Lesson Block.
---
5 Days to Homeschooling with Main Lesson Blocks
Hop around to all the posts in this series to find all you need to homeschool with main lesson blocks!
Day 1: What is a Main Lesson Block?
Day 2: Why Does Main Lesson Block Learning Work? (That's this post!)
Day 3: The Essential Elements of a Main Lesson Block
Day 4: How to Plan a Main Lesson Block
Day 5: Recording the Learning in a Main Lesson Book

This series is part of the iHomeschool Network's 5 Day Hopscotch. See what the other bloggers have shared and find tips, encouragement, and resources for your homeschool.