Finding curriculum and resources for Waldorf homeschooling is challenging. I would venture to guess that we all have full bookshelves. There's nothing wrong with this at all! But I would also venture to guess that all of those resources and curricula might not give you exactly what you're looking for.
Oftentimes, we continue searching even after the bookshelves are full. Because we think that finding curriculum and resources for Waldorf homeschooling is the end of the preparation process.
I want to tell you that what we are searching for is not the perfect curriculum.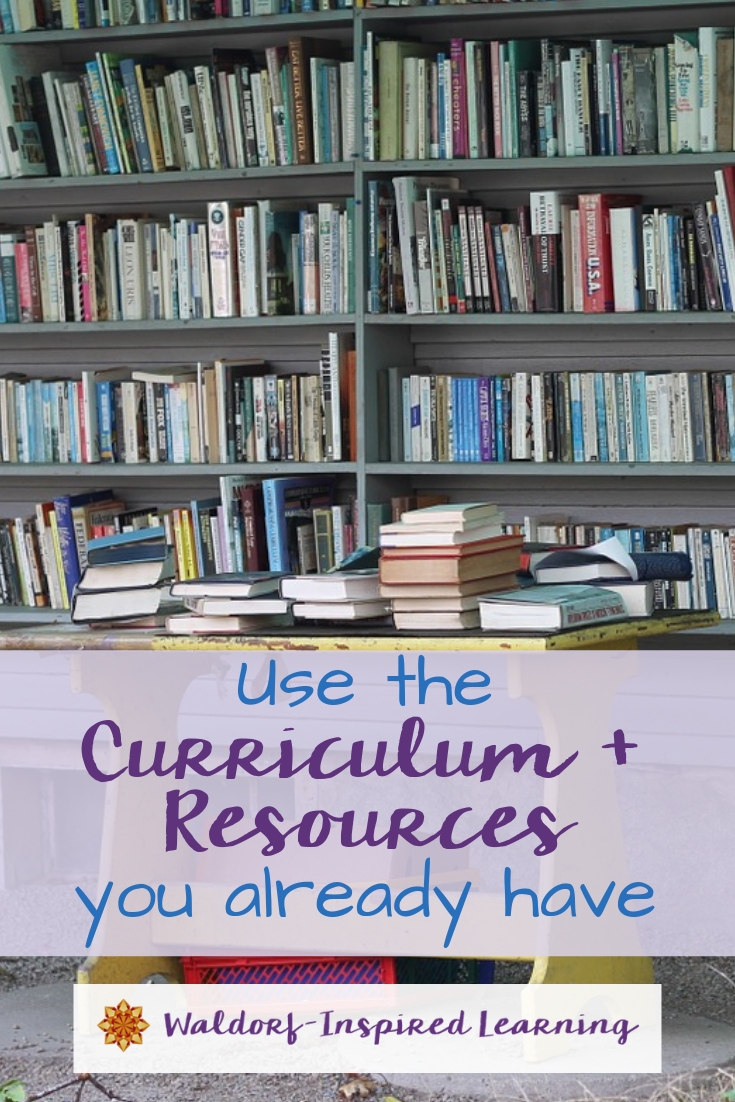 For starters, the perfect homeschooling curriculum doesn't exist. Secondly, what we're really searching for is confidence and ease. We don't want to struggle, and somehow we've allowed ourselves to believe that the right curriculum will alleviate those feelings of struggle and practically do the teaching for us!
I'm here to tell you (after 20+ years of homeschooling) that we really just need to dive in and get on with it. And the most direct way to do that is this:
Use the curriculum and resources you already have!
We don't want to get stuck in "search and do." That state of constantly searching for someone to just tell us what to do, and then we'll do it.
Instead, we want to switch "search and do" to "understand and create."
The Waldorf method of education and homeschooling goes way beyond the curriculum. And the truth is, the most important part of the curriculum isn't the plan on paper but what gets carried out and what our children learn from those experiences.
So how do we move from "search and do" to "understand and create"?
By understanding the foundation of Waldorf principles so that we can create a main lesson block around any beautiful book or subject.
Finding Curriculum and Resources for Waldorf Homeschooling
Here are the 3 key principles that form the foundation of Waldorf education. We want to embrace these, no matter what curriculum or resources we might use. With each principle, I include a link to a post in the Steiner Cafe that is relevant and further explains that principle.
The stages of child development determine the how and why of the curriculum. Read: The Three Stages of the Waldorf Curriculum
The lively arts are woven into all lessons. Read: The Arts Engage the Will & The Seven Lively Arts
Rhythm guides our seasons, weeks, day, and lessons. Read: Rhythm is (Always) the Answer
Once we understand these principles, we can create our own main lesson blocks around just about any book or subject!
Our job as homeschooling parents is to create the space for learning and offer learning opportunities to our children. And this process needs to work for both them and us in order to be sustainable!
There are lots of components to Waldorf education. And it's important to know that you can create your own main lessons that suit your particular child(ren) and family. That's what Steiner had in mind when he said…
Where is the book in which the teacher can read about what teaching is? The children themselves are this book. We should not learn to teach out of any book other than the one lying open before us and consisting of the children themselves. In order to read in this book, however, we need the widest possible interest in each individual child, and nothing must divert us from this.

-Rudolf Steiner, Human Values in Education
Does this mean we should avoid buying curriculum all together? No, not necessarily. But it might mean we need to shift our attitudes a bit! From "search and do" to "understand and create."
Every education is self-education, and as teachers we can only provide the environment for children's self-education. We have to provide the most favorable conditions where, through our agency, children can educate themselves according to their destinies.

-Rudolf Steiner, "Gratitude, Love, and Duty"
I hope this empowers you to use what you already have! Or go to the library. Or buy a few key resources for specific blocks you plan on doing. Because finding curriculum and resources for Waldorf homeschooling is only the beginning of the process.
No need for endless searching.
Just a switch from thinking "search and do" to "understand and create."
If you are just starting out with homeschooling or Waldorf, my Homeschool Simplicity Bundle toolkit is a great place to begin your journey. It's 72-pages of strategies, templates, and encouragement.
If you want help working through my 6 steps to planning your block or year, come join an amazing group of homeschooling parents in Plan It Out: an Online Course + Group Coaching Program for Waldorf Homeschoolers.