My youngest just got her driver's license! Here's a description of a recent Monday at our house, a homeschool day with a 16-year-old.
A Homeschool Day in the Life
(with a 16-year-old who just got her driver's license)
A teenage driver changes everything in a homeschool family. Really, when any child gets a license, it's a major milestone. But I think especially for homeschoolers because we're so often driving to and from classes and activities, sometimes many times a day as they get older. And when it's your youngest child, not only does the teen have more independence, but so does Mom!
Our daily rhythm has shifted again. Mostly my rhythm this time because now instead of driving my daughter to classes, and volunteer commitments, and work and skating, and friend's houses, she's driving herself!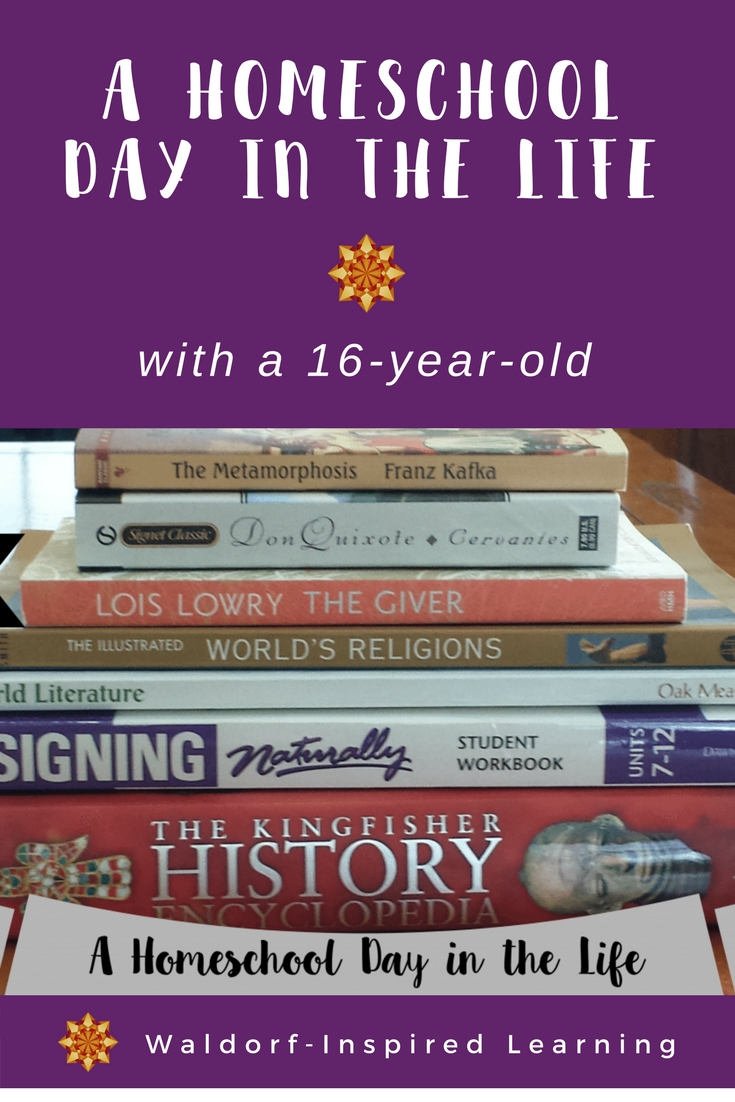 Our homeschool has just one child in it these days. The other two have graduated. (And are living in their own apartments, supporting themselves at jobs they love!)
This post is part of an annual series created by Jamie over at Simple Homeschool. 
This post contains affiliate links for your convenience. You can read my full disclosure policy here.
7:00 am – Everybody's up (Mom, Dad, our 16-year-old, and Gus, the dog.) I do my 30 minutes of inspirational readings, prayer and meditation. And then I can go for my usual morning walk with my hubby and our dog, which up until now, I've had to forego on Mondays in order to drive my daughter and another teen to their community college classes. Bonus!
8:00 am – My 16-year-old leaves to pick up her friend so that they can get to their 9:00 am ASL II (American Sign Language) class. (I say a little prayer because there's a "wintry mix" of snow, sleet and rain coming down outside.) While they're gone, I get to do some writing, plan for my classes that I teach, and schedule a Mentor Session with a Waldorf homeschooling Mama.
Suddenly, I have so much more time that is my own. And I have been feeling both wistful and gleeful all at the same time with this shift because I am looking at the end of my homeschooling career. Yes, it does come to an end! That is the goal. To raise children who can discover their gifts and find ways to share those gifts with the world. (Wonderful and bittersweet for Mama.)
Next up for my daughter is a Physics class at the community college. So, she's gone all morning.  (This is her schedule on Mondays and Wednesdays.) She is a junior in high school this year, and having her take a few college classes was a great decision. She's getting dual credit for these classes. Every state in the U.S. has a program for dual credit. In Ohio, it's called CCP (College Credit Plus). Students can take college classes as a high school student and get credit for both high school and college at the same time. AND, one semester class of college counts as a full year of high school!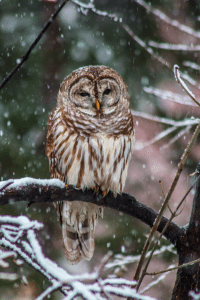 1:00 pm – I greet the girls at the door with great excitement to show them the barred owl perched in our neighbor's tree. The owl has been there for three hours so far. Amazing! (I think I'm a bit more excited than they are, but still it's quite an awe-inspiring experience.)
The girls make themselves lunch, as do I, and we all sit down to eat. I get to hear bits and pieces of classroom conversations and they talk some to each other in sign language that I can't understand!
2:00 pm – We are joined by a third teen for our weekly World Literature class. (I have to show the owl off again before we can begin class!) I teach this high school English class at our house with just three teens this year (all of whom I've known for years) and it's a true delight. We have great conversations and they all do fine work. This week we're studying haiku poetry. Here are some of the poems they wrote with magnetic poetry!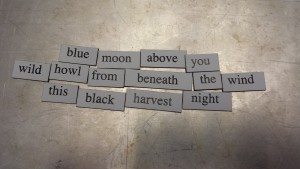 Blue moon above you
Wild howl from beneath the wind
This black forest night.
The woman shivers
Her breath whispers through concrete
The morning is glass.
Somewhere in this world
This harmony of autumn
Is bursting with dreams.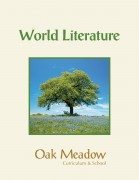 For this World Literature class, we are using the Oak Meadow World Literature syllabus. So far this year, we've read The Metamorphosis, The Ramayana, the Romantic poets – John Keats, Dylan Thomas, and William Wordsworth – and the student's each picked an author to research and read two of their works. We still have A Doll's House and Don Quixote to go.
We've also been to see Shakespeare's King Lear and have two more plays that we get to see: And Then There Were None by Agatha Christie, and The Fantastiks. We are so very fortunate to live in northeastern Ohio where we have a world class theater district!
My 16-year-old is part of the STARS student volunteer program at Playhouse Square; this is her second year doing this. The teens volunteer to usher for Broadway shows and get to participate in quality workshops with theater professionals about acting, playwriting, and running a performing arts center, to name a few.
4:00 pm – Lit class is over and both mother and daughter need some down time! We each retreat to our rooms to read and catch up on work and social media. My daughter may be doing her math (an online class through Thinkwell), but I doubt it.
5:00 pm – I get dinner going. (All I have to do is check the menu plan tacked up on the side of my fridge to see what to cook! I love my Plan to Eat online menu planning tool because I make most of our food from scratch and need all the help I can get!)
6:00 pm – The whole family sits down to eat. Just three of us these days. But having dinner together has been a steady part of our family life since our oldest child was little. That's over 25 years! At dinner, I share that the big, beautiful owl left right at dusk, flying up the driveway to a treetop across the street.
7:00 pm – My daughter leaves – driving herself again – for speedskating practice. This is her third year on our community's Speedskating Team and it's been great, like an extended family. The skaters and their families are all friendly and super supportive of each other.
9:00 pm – We're all back home, with our teenager doing homework and the parents wrapping things up from the day and getting ready for bed! My teenager now goes to bed at a fairly reasonable hour because most days she's either getting up for college classes or to go to work at her new job at a little cafe. Plus on Tuesdays, she has her online history class that I teach with my good friend, Alison, in Texas! And I know she still has some homework to do for that class.
My daughter turns 17 next month, and even though I still sometimes cycle through wondering if I've done enough, most days I look at her (and at my other two in their twenties) and think "it's all turned out just fine."
And I feel so grateful for this amazing 20+ year journey of homeschooling.
How the days have changed!
You can read last year's reflections here: A Homeschool Day in the Life with a 15-year-old.
And A Homeschool Day in the Life with a Senior in High School here.