I love infographics – they speak to my visual nature and are fascinating to me. Here is one called Creative Routines that examines the lives of some famous composers and writers – 17 in all.
You can see how Benjamin Franklin, Mozart, and John Milton spent their time! When did they work and when did they sleep? What did they do first thing in the morning?
Or jump on over to my Pinterest board on Rhythm to view the infographic, Creative Routines.
Follow Art of Homeschooling's board Rhythm on Pinterest.
In looking this over, here is what stands out for me:
Many creatives go for daily walks, or even more than one walk per day.

Many have morning routines such as a cup of tea or meditation.

They all have significant social time – none are working all the time!
And I just love Benjamin Franklin's questions that he asks himself! In the morning: What good shall I do today? And in the evening: What good have I done today?
The Creative Routines infographic is inspired by the book Daily Rituals: How Artists Work by Mason Currey.
As parents and homeschoolers, routines bring us and our children a sense of security and provide anchor points throughout each day.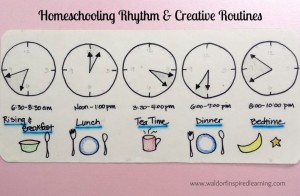 Many Mothers I know (myself included) fuss and fret over what the routine should be, and revisit this subject often. But really, it can be quite simple. No need for elaborate routines – in fact this often leads to it all falling apart! With the spring weather, I like to add in time in the garden each day and more time outdoors.
What are your daily creative routines?