Most Waldorf homeschoolers avoid teaching grammar.
Because after all, the Waldorf curriculum is full of good stories. That's how lessons and new material are presented. Writing and reading are built into the curriculum, so those aspects of language arts seem to be taken care of.
Plus, we have no idea how to teach grammar in an artistic and alive way. So we avoid it.
Many homeschooling parents ask me: is teaching grammar really necessary?
My answer: well, yes and no!
Most children develop language skills just fine without formal grammar or spelling instruction. However, Rudolf Steiner saw the real purpose of grammar as an awakening, as a way to bring what is hidden into the light. And therefore, this study of language can parallel a child's growing consciousness and awareness of self. The study of grammar can be a way to build a child's confidence.
Let's start with the concept that speech, the use of words and language to communicate, is one of the factors that sets human beings apart from other animals. Developmentally, this study is best suited for children starting around age nine and beyond, all the way through high school.
And the truth is that grammar and spelling practice can be enjoyable, rather than feeling too formal or like a chore. The main key is to keep it playful. Because when children play, their resistance to learning decreases, they have more fun, and they are then more likely to retain what they're learning.
Today, I want to share three helpful resources for teaching English Language Arts including grammar and spelling. And they won't break the bank!
Some Waldorf teachers start with "doing, naming, and describing words" in grade two. We introduce children to these descriptions of how verbs, nouns, and adjectives behave rather than starting with their definitions. In our house, I introduced these concepts informally usually around grade three or even four. (I think it was different for each of my three children!)
Remember, the Waldorf curriculum is rich in language development. The finger plays, verses, songs, rhythmic speech, and storytelling begin in kindergarten and continue all the way through the grades. Our children are naturally guided to learn about speech and language structure through the stories, retellings, and written summaries that they do as part of their main lesson work.
If you want to read more about grammar from a Waldorf perspective, I suggest this short article from the Waldorf Online Library, When Shall Grammar Be Taught? by Virginia Birdsall,  written in 1940. It includes a wonderful poem for each of these different parts of speech: the verb, noun, and pronoun.
Now on to our three resources, two decidedly Waldorf and one not.
This post contains some affiliate links for your convenience. You can read my full disclosure policy here.
3 Helpful Resources for Teaching English Language Arts
What I love about all three of these resources is that they honor this basic tenet of Waldorf education: that the well-being of the child is more important than any one particular skill.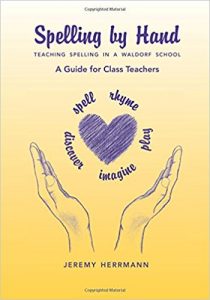 This is beautifully stated by Jeremy Hermann, the author of Spelling by Hand: Teaching Spelling in a Waldorf School, a Guide for Class Teachers. I would add "and homeschoolers" to that title!
Spelling by Hand emphasizes the importance of short daily practice when it comes to spelling. But this can be done in five to fifteen minutes each day.
This concise book offers a summary of a spelling curriculum for grades 1-6. Hermann illustrates a technique for hand spelling and finger spelling that adds a physical component to the sounds. He starts with regular words in grades one and two, and moves to irregular words by grades five and six. You could definitely start using this book in any of these grades.
The book includes 36 simple spelling games plus spelling word lists. The activities in this book would make a great addition to language arts lessons at home. They could also lend themselves to mixed-ages activities depending on your children's skill levels.
Why study spelling? It can help foster a child's healthy relationship to authority, as well as listening and observation skills. This book could provide Waldorf homeschoolers with the foundation for an economical and thoughtful spelling curriculum.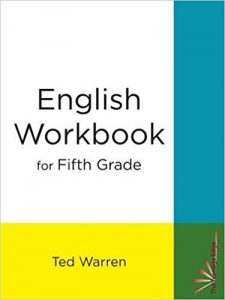 My second resource recommendation is a series of English Workbooks for Fourth Grade, Fifth Grade, and Grades Six to Eight written by Waldorf teacher, Ted Warren.
What I like most about this series is that they are workbooks written directly to the child. For homeschoolers that means that most children will be able to work on these workbooks independently. Or with a bit of assistance at first. Some of the exercises can even be done aloud.
The lessons are not necessarily intended to be worked through in order. You can pick and choose different topics in grammar such as verb tense, parts of speech, and spelling or grammar rules. The English Workbook for Fourth Grade has 62 Exercises. While the English Workbook for Fifth Grade has 74 Exercises. And the English Workbook for Grades Six to Eight has 122 Exercises. 
There is also The Teacher's Manual for Three Workbooks, just one teacher's manual for all four years (plus even a few suggestions for Ninth Grade). I would recommend that you purchase the teacher's manual because it includes: teaching grammar with a Waldorf approach, the background for when to teach what, suggested games and activities, rules of grammar, spelling, and punctuation, as well as key concepts by chapter from the student workbooks. There are also writing exercises that help to increase a child's self-confidence by applying all that they are learning while writing their own original sentences, paragraphs, and stories.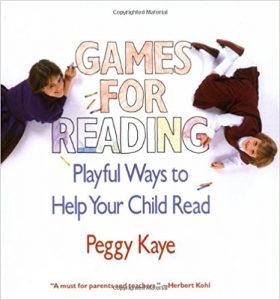 Lastly, I want to mention a fun book for all kinds of language play: Games for Reading: Playful Ways to Help Your Child Read by Peggy Kaye. Just to be clear, this book is not written by a Waldorf teacher. But it is used by many homeschooling families and fits right in with the playful approach to language found in Waldorf.
Games for Reading has over 75 different games, from finding and rhyming games to concentration and sound games. As Kaye says in the introduction, "If these games aren't fun, they aren't working." My two favorites are the Rainbow Game and Talk a Drawing.
And there you have it, 3 resources for homeschooling language arts. The only one of these resources that was available when my children were in elementary school is the Games for Reading book. I'm so pleased to see some new books on the scene, helpful resources for teaching English language arts at home.
What is your biggest challenge when it comes to homeschooling English language arts?