Resources for Waldorf Homeschooling
WELCOME! I'm Jean, a longtime homeschooler and mother of three. I put together this comprehensive list of resources for Waldorf-inspired homeschooling to help you navigate through the wonderful Waldorf journey. Want help creating a homeschooling plan from all the resources? Click here to get the mentoring and support you need to make homeschooling work for you and your family.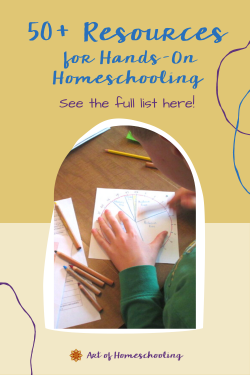 Here are the sections that you will find on this page:
Curriculum

Curriculum Support

Associations & Publications

My Favorite Books

Waldorf Suppliers

Crafts & Playthings

Support for Mom
This page contains some affiliate links for your convenience. You can read my full disclosure policy here.
Curriculum
Christopherus Homeschool Resources Donna Simmons is a trained Waldorf teacher and homeschooling Mom. She offers curriculum for grades 1-5 along with a variety of unit studies, a Kindergarten guide, a very informative Waldorf Curriculum Overview, and audio downloads on various topics. Lots to check out on her site including a great article, "Waldorf 101." Donna is currently downsizing and having a big sale. She will re-open her shop in January 2018 with a new pricing structure.
Live Education! publishes curriculum for Waldorf homeschoolers and teachers for grades K-8. Lovely curriculum book sets for each grade that come with consultation. Must purchase entire grade package.
A Path of Discovery Eric Fairman published his notes as a Waldorf classroom teacher in Australia. You can purchase each grade separately, volume 1-8. There is also a Mathematics book for all the grades. Purchase from Waldorf Books. All proceeds from the sale of A Path of Discovery volumes are allocated to legitimate social charitable needs, especially those of poor families and children in 3rd world countries such as Nepal or to send children of successful asylum seekers or other children of destitute families, to Steiner-Waldorf (inspired) schools.
Waldorf Essentials Melisa Nielsen is a Waldorf homeschooling parent who offers curriculum and support for grades 1-7 and an Early Years program. She also offers a training program for Moms called Thinking, Feeling, Willing.
Lavender's Blue Homeschool offers a kindergarten curriculum organized by the seasons, as well as first- and second-grade curriculum. These are complete weekly guides, with stories, song recordings and verses.
Earthschooling Kristie Burns offers curriculum packages and lessons for grades preschool through 8th grade and high school as well. All lessons are created by a team of Waldorf and certified teachers and include videos, MP3s, and lectures for teacher support.
Math By Hand Hands-on, interactive math kits for grades 1-4, made specifically for homeschoolers by a CA Waldorf teacher. Each kit comes with all the materials needed to make each project. Effective, fun and complete.
Oak Meadow publishes homeschool curriculum materials for Pre-K through High School and has an accredited distance education school. Not purely Waldorf (lessons are not set up in main lesson blocks), but influenced by Waldorf.
Curriculum Support
Art of Homeschooling  This is my (Jean Miller's) website where I offer inspiration through my podcast, blog posts, and a newsletter. You can also find out more about my courses, the Inspired at Home membership community, and my one-to-one Mentor Sessions. Plus so much more! I encourage you to have a look around.
Waldorf Without Walls Barbara Dewey (my mentor) publishes many small, helpful books including one on Getting Started, a great Form Drawing book, and books on Handwork, Math, Watercolor Painting and more.
Waldorfish offers Weekly Art Lessons, an online program of videos that runs September through May. Great for learning Waldorf art techniques right alongside your children. They also offer Waldorf Art for Beginners if you want to learn the basics of Waldorf drawing, painting, and chalkboard drawing. Taught by two Waldorf teachers who also homeschool.
Simply Waldorf offers videos from Waldorf educators to and courses to help you on your homeschooling journey. New on the scene! You'll find kindergarten and first grade resources available.
Millenial Child Eugene Schwartz's site has lots of CDs on various topics including each grade, and he offers online conferences by grade. He has very helpful free outlines of each grade as well. And check out the article "Freedom of Choice or Freedom from Choice?"
Celebrate the Rhythm of Life Lisa Boisvert-Mackenzie offers the Living Curriculum Program for early childhood that focuses on simple rhythms, songs, and verses; and eCourses to support and inspire parents and teachers. Here's a link to an article about Homeschooling Getting Organized.
The Waldorf Connection Anne Cleveland offers training and support particularly for parents of young children as well as a Kindergarten and First Grade curriculum.
A Waldorf Journey Meredith Floyd-Preston is a mother of 3 teenagers and a Waldorf classroom teacher who blogs and podcasts about her experiences at A Waldorf Journey. She also offers curriculum and training materials for teachers and homeschoolers, and hosts a wonderful Podcast. You can listen to my conversation with Meredith on her Podcast here: A Conversation with Jean Miller of Art of Homeschooling.
Living Music Jodie Mesler has created a music curriculum called The Magic Flute for teaching penny whistle or recorder at home. Volume 1 is for the 6-year-old; Volume 2, for 7-9-year-olds. She also has Festival songbooks and CDs.
Lemon Tree Press offers books by longtime Waldorf educator, Howard Schrager. Titles include LMNOP and King Maximo and the Number Knights.
Syrendell Jennifer Tan is a fiber artist and Waldorf Mom who has handwork e-books for sale, among other things. Rick Tan is a Waldorf teacher and offers ecourses and workshops on chalkboard drawing and watercolor painting.
Bravewriter "Supports and nurtures the homeschool family in the areas of Language Arts and writing from grammar school until college with online classes, home study courses and language arts programs." Publishes magazines on individual fiction titles complete with dictation, narration and writing ideas for both elementary and high school.
David Darcy has a great book Inspiring Your Child's Education: A Holistic Curriculum and Teacher Training Guide as well as a book and CD on the pentatonic recorder.
Jamie York Press Publisher of Waldorf math books for private, public and home schools, including the Making Math Meaningful curriculum and workbooks for each grade. This site also has wonderful Free Downloads of practice and review sheets, lesson plans, and math facts flashcards.
Movement for Childhood A resource for teachers and parents who want to provide children a path to healthy development through age-appropriate movement activities inspired by Waldorf education. Check out the article "Education for Balance and Resilience."
The Baldwin Project "Bringing Yesterday's Classics to Today's Children," The Baldwin Online Children's Literature Project seeks to make available a comprehensive collection of stories for different grades for teachers and parents – folk tales, myths, legends, fairy tales. Its focus is on literature that is in the public domain, published between 1880-1922. A great resource for stories.
Whole Family Rhythms Meagan at Whole Family Rhythm offers beautiful seasonal guides for families with young children as well as a Return to Rhythm online course. Join the free challenge to help you create a strong, balanced and flowing family rhythm in just 5 days.
Wee Folk Art Patterns and crafts from three generations of crafters. They also have a free kindergarten curriculum plan with a simple schedule of story, activity, art and poetry for each week.
Promethean Press Promethean Press aims to produce valuable aids to Waldorf Teachers in Music, Singing, Speech and Drama, Geometry, Child Development, Anthroposophy and other areas. Books of verses and recorder music from Waldorf teacher John Miles.
Starlite Puppets is dedicated to sharing the art of storytelling through puppetry and live music. They offer a few books of stories and songs and puppet-making kits.
Juniper Tree Puppets is a resource for puppetry and storytelling arts, exploring the art and archetype, the magic and meaning, the wisdom and healing of story and ensouled puppetry. They offer puppet making kits, story resource books, and trainings.
Waldorf Curriculum This website includes free unit studies for kindergarten and the grades as well as tips on planning and an overview of the Waldorf curriculum.
The Online Waldorf Library So many incredible resources here. Under Journals, you can find back issues of a newsletter published from 1967-1988 written by and for Waldorf teachers; back issues of Gateways: A Newsletter of WECAN; Renewal magazine and so much more. The website has a handy search feature.
Rudolf Steiner Audio Offers MP3s and zip files of many books and lectures by Rudolf Steiner all for free to download or listen to on your computer.
Rudolf Steiner Archive Steiner's lectures, books, and articles can be read here online as well as summaries of his books.
Associations & Publications
Why Waldorf Works "Everything You Need to Know About Waldorf Education" This is the new AWSNA site, the Association of Waldorf Schools of North America.
Anthroposophical Society in America The Rudolf Steiner Library, founded in 1928, is the lending and mail-order library of the Anthroposophical Society (click on Rudolf Steiner Library in menu). Society members automatically receive library membership at no additional charge. The library has over 27,000 volumes.
LILIPOH Magazine LILIPOH stands for Life, Liberty, and the Pursuit of Happiness. The magazine's tagline is The Spirit of Life. "Both inspirational and practical, LILIPOH is a lifestyles magazine for the growing populace known as 'culture-creatives,' folks interested in holistic health, well-being, creativity, spirituality, gardening, education, art, and social health. Articles, art, poetry, reviews of books, and news make LILIPOH a well-rounded, solution-oriented publication for creative, green-minded, thinking individuals who have an interest in spiritual inquiry and a desire to make a difference in the world."
Taproot Magazine The magazine for makers, doers, and dreamers. This is an ad-free, independent quarterly focusing on food, farm, family, and craft. (Not related to the Taproot Teacher Training for Waldorf Homeschoolers, but a great name!)
No Child Left Inside Coalition is a broad-based organization made up of more than 600 member groups from across the United States who believe young people should receive a strong education about their natural world. The Coalition's focus is the passage of the federal No Child Left Inside Act which would authorize major new funding for states to provide high-quality, environmental instruction.
Waldorf Early Childhood Association of North America (WECAN) "Our mission is to protect and nurture the healthy development of the young child. We provide resources for early childhood educators and parents interested in Waldorf early childhood education."
Alliance for Childhood works on issues related to preserving childhood, including supporting the importance of play and working against the commercialization of childhood and high stakes testing.
The Nature Institute's mission is "viewing nature, science and technology in context." They offer education programs and publications founded on the Goethean approach to science and nature.
The Nova Institute The Nova Institute seeks to bring fresh insights into parent and teacher education through a deeper understanding of children. The organization was founded by Jack Petrash, author of Understanding Waldorf Education: Teaching from the Inside Out.
My Favorite Books
3 Favorite Books to Introduce Waldorf Education

4 Favorite Books for more in-depth Waldorf Curriculum
3 Favorite Books/Articles on Overviews of Specific Grades
(Keep in mind that these all describe classroom settings.)
Favorite Supplies for Homeschooling
If you want to see more ideas for Waldorf supplies, check out these suggestions here.
Waldorf Suppliers
Bookstore at Rudolf Steiner College
AWSNA Publications
Paper Scissors Stone
Meadowsweet Naturals
Waldorf Books
Crafts & Playthings
A Child's Dream
Bella Luna Toys
A Toy Garden
Palumba
Nova Natural Toys & Crafts
Happy Hedgehog Post
Bear Dance Crafts
Weir Dolls and Crafts

Support for Mom
Plan to Eat This is my absolute favorite menu planning tool that I've been using for over 4 years. An online meal planning program that stores all of your recipes, including those you find on the web, and allows you to drag and drop them into a weekly plan for meal preparation. Makes cooking at home and preparing family dinners so much easier.
Healthy Moving This wonderful exercise program helped me recover from an autoimmune flare 3 years ago and I've been doing it ever since. Four 6-week challenges a year bring you a weekend online class and then daily challenges of just one movement that you repeat throughout the day. So easy, fun, and effective. Plus a super supportive community. Check out the Coaching & Challenge Program here. If you aren't ready to commit to a program, get the Stress Relief Bundle here – a handful of video classes and a short practice.
Health Journeys This has been my go-to for guided meditations. My favorite is Meditations to Relieve Stress. Includes both Affirmations and a Walking Meditation.