Waldorf Block Rotation for Homeschoolers, Grades 1-8
Here's where you'll find the traditional main lesson block topics that are typically taught in each grade. This Waldorf block rotation for homeschoolers is a great starting point when planning your year.
Creating a simple homeschool block schedule can help you stay on track and relieve overwhelm throughout the year. When you plan out your homeschooling year in blocks, inspiration and fortitude are sure to follow.
To create a "big picture" block schedule, you simply assign a topic or theme to each month of your homeschooling year. Then you can plan your homeschooling lessons around this theme or block topic by choosing a read aloud or story material, developing academic, artistic, or development goals, collecting resources, focusing in on skills, and weaving in the lively arts.
Diving deep into one subject for several weeks at time is one of the guiding principles of holistic homeschooling.
If you want to hear more about this simple, yet powerful planning technique, be sure to have a listen to episode #122 over on the podcast, Homeschool Block Schedule.
As homeschoolers, we are in a unique position to choose and design blocks based on what our children need. Even in Waldorf classrooms, there is variation in block topics and when they are brought. You can begin designing your own homeschool curriculum plan with this outline of the Waldorf block rotation for homeschoolers.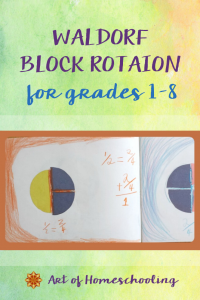 Waldorf Block Rotation for Homeschoolers
Grade One
Introduction to Letters through Fairy Tales (2 blocks)
Nature Stories (2 blocks)
Math (2 or 3 blocks): quality of numbers, whole numbers, counting to 144, the four processes using numbers 0-24, symbols of four processes, subtraction facts to 20, multiplication tables, 2x, 3x, 10; using rhythm as much as possible.
Grade Two
Fables: Aesop's, Celtic and others (1 or 2 blocks)
Legends of Saints (1 or 2 blocks)
Local Folklore or Native American Tales (1 block)
Math (3 or 4 blocks): times tables through12, number patterns, column adding, situation problems, time, money.
Grade Three
Old Testament stories or Creation stories (1 block)
Native Americans (1 block, if not covered in Grade 2)
Homes & Shelters (1 block)
House Building (1 block)
Clothing, Fabric & Fiber (1 block)
Farming & Food (1 block)
Math ( 3 blocks): carrying & borrowing, times table practice, long division, number patterns, weights & measures, telling time, money calculations.
Grade Four
Human Being & Animal (1 block)
Norse Myths (1 block)
Local Geography (1 block)
Grammar (included in other main lesson work)
Math (3 or 4 blocks): review operations, times tables, averages, long division, factoring, proofs, word problems, mental math.
Grade Five
Ancient History – India, Persia, China, Egypt, Greece (2 or 3 blocks)
Botany (1 or 2 blocks)
North American Geography (1 block)
Math (3 blocks): decimals, fractions, mixed numbers, reciprocals, metric system, map references, simple laws and patterns in math.
Grade Six
History – Fall of Troy through Roman History; Medieval History (3 blocks)
Geography of the World (1 or 2 blocks)
Physics (1 block)
Geology & Mineralogy (1 block)
Astronomy (1 block)
Math (2 blocks): percentage, ratio, proportion, profit & loss, simple interest, algebraic equations, geometric drawing with ruler & compass, string designs, visual discovery of geometric patterns.
Grade Seven
History and Literature (3 or 4 blocks): the Age of Exploration & Discovery, the Renaissance 1400-1700; Arthurian Legends, Biographies, Poetry
Geography of the World (1 block): Africa, Europe, weather and map reading, geographical terms.
Physics (1 bock)
Chemistry of Combustion (1 block)
Astronomy (1 block)
Health & Nutrition (1 block)
Math (2 or 3 blocks): geometry, perspective drawing, business math, graphing, roots & powers.
Grade Eight
History and Literature (2 blocks): 1700 to present – Industrial Revolution, colonialism, American History including life of people & biography: Shakespeare, Napoleon, Washington, Jefferson, Lincoln, inventors.
Literature (2 blocks): short story, elements of a story, writing a short story, Shakespeare play.
Physics (1 block)
Chemistry (1 block)
Physiology (1 block)
Geography of the World (1 block): continents (integrate with history)
Math (2 blocks): practical math, set theory, percent, equations, solid geometry, volumes of solids.
If you want to talk with an experienced homeschooler about how to create main lessons for your children, consider booking a one-on-one Mentor Session with Jean. Often one session is all you need to feel good about moving forward with homeschooling.
And if you want to learn how to design your own blocks, come join the mentorship community, Inspired at Home, where you'll find a library of masterclasses, monthly group coaching calls, and a welcoming community of homeschoolers just like you.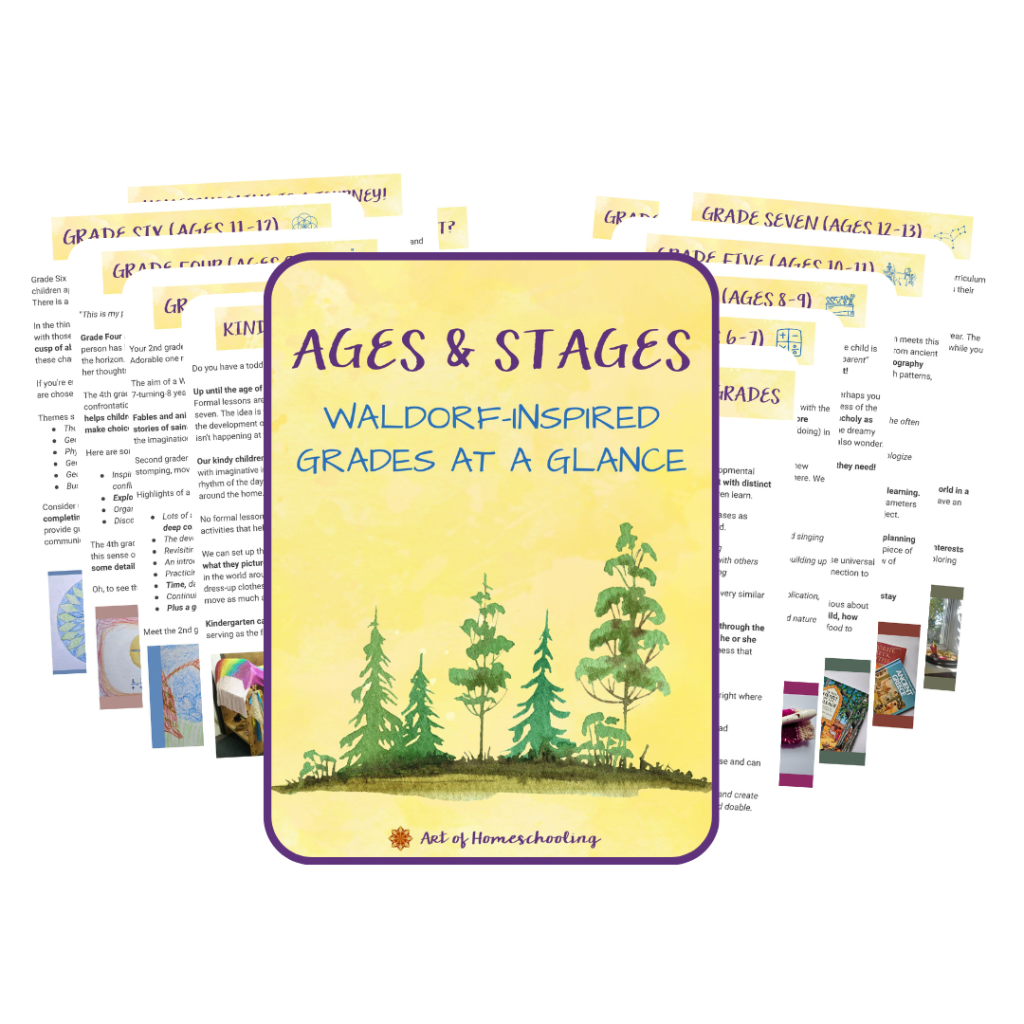 Free AGes & Stages Guide
Discover the wonders of each stage of learning so you can bring your children exactly what they need and homeschool with more confidence.