Welcome! Whether you're new to homeschooling or have been on this journey for some time, you'll find scores of articles and resources here at Art of Homeschooling to help you customize your holistic homeschooling plan and curriculum.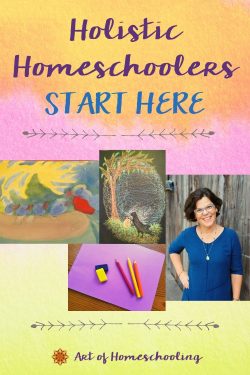 Start with Rhythm
Daily rhythm is the anchor we return to again and again. If you want help creating your daily flow of activities, get my FREE guide to Save Your Homeschooling Day.
With these simple steps, you can gain the clarity and confidence you need to get your rhythm back on track for a simple happy homeschool. Plus, you'll be all set to receive a weekly dose of encouragement from me every Wednesday in your email inbox when you sign up!
Support for Holistic Homeschooling
These free articles & resources will help you better understand how to bring hands-on, holistic homeschooling to life at your house.
Just Getting Started with Homeschooling?  
Five Things to Consider as You Start Homeschooling
50+ Resources for Hands-On Homeschooling
Waldorf Block Rotation, Grades 1-8
5 Days to Homeschooling with Main Lesson Blocks
And be sure to check out the latest episode of the Art of Homeschooling Podcast.
Looking for Gift Ideas for the Holistic Homeschooling Journey?
As holistic homeschoolers, we're intentional about what we bring into our homes. I've created Gift Guides & Book Lists for Simple Natural Families just for you. So that you have ideas for your own children, friends, and yourself! Plus have a place to send grandparents or other family members looking for gifts for your kids.
Want to Learn with Me?
I love helping homeschoolers customize and make this journey work for you and your children. That's my mission.
If you're looking for encouragement, advice, or a community, check out all of the offerings from Art of Homeschooling.
I offer a variety of ways that you can learn with me and benefit from my 25 years of homeschooling my three children.
It's not about perfection but all about connection.